National Library Week (April 3–9) is upon us and this year the theme is "Connect With Your Library," with a specific emphasis on technology and digital ways we connect. We're here to share with you a few of the many technological resources you have access to at the Libraries.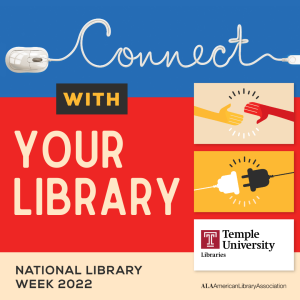 Assistive technology
At Temple Libraries, we offer assistive technology software and devices available at Charles Library and Ginsburg Library and are constantly working on expanding and updating our offerings. Examples include:
JAWS (Job Access with Speech): a screen reading software installed on all public desktops and loaner laptops
Ubi Duos 2: a face-to-face communication assistive device with two separate keyboards and screens that convey messages between two people in real time letter for letter (helpful for non-verbal or hearing impaired)
Optelec ClearView Speech Reader: a sight amplifying device that increases size and contrast of text and can read aloud to you
BookBot
The groundbreaking technology used in our Automatic Storage and Retrieval System in Charles Library has freed up space for dozens of study rooms (many of which have monitors and presentation technology), other types of collaborative space, and specialized research equipment (see Duckworth Scholars Studio below). When a book or bound journal is requested via our online catalog, the BookBot initiates the request and the material is delivered to a processing station to be readied for patron pick up. Check out our Instagram story takeover on Tuesday, April 5 for a behind-the-scenes look at the BookBot and the staff that make it work.
Battery banks and laptops
In Charles Library, portable battery banks and laptops are available for Temple affiliates to check out. The banks operate as portable outlets, allowing you to charge your devices anywhere in the library. The laptops can be checked out for a few hours and can even be taken outside the building and returned to any kiosk on campus.
Innovation Space and Loretta C. Duckworth Scholars Studio
The Innovation Space in Ginsburg Library and Duckworth Scholars Studio in Charles Library are hubs of creativity and technology that offer equipment such as VR headsets, 3D printers, laser cutters, sticker/button makers, and digital software for any Temple affiliates to use. Upcoming events include a digital humanities symposium on Afrofuturism, workshops on VR and video equipment, and a digital innovation showcase.
Community Computer Lab and WiFi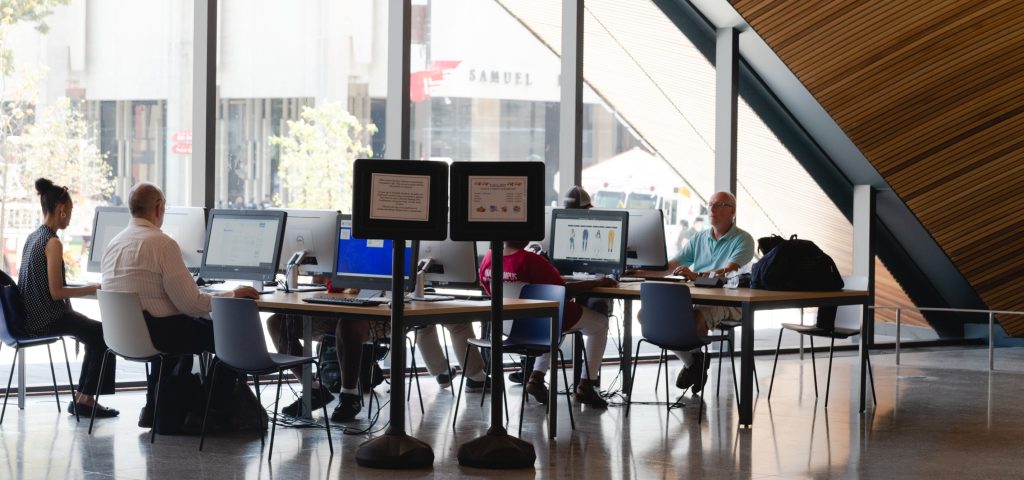 Anyone can come into Charles Library and use our Community Computer Lab to connect with job resources, people, or just browse the web. And, as long as you are utilizing the WiFi in our building, you have access to all our databases, journals, articles, and ebooks! There are also charging lockers available to secure and charge phones while in Charles Library.
Ambler Library in the Technology Center
Our Ambler Campus Library is open in a scaled-down capacity in the Ambler Technology Center (inside the Ambler Campus Learning Center). With computers readily available, you can receive in-person reference help while immersed in online work. Stop by to check out the new spot and say hello!
Digital collections from the Special Collections Research Center
In addition to the reading room on the first floor of Charles Library and the amazing materials you can view and touch, the Special Collections Research Center has an enormous online repository of digital collections including scans of documents, photographs, video, and audio content.
Black Lives Always Mattered! (BLAM!) virtual exhibit
The Charles L. Blockson Afro-American Collection launched an online exhibit showcasing the stories and art that went into the BLAM! graphic novel, produced with the Pew Center for Arts & Heritage.
Ebooks and open publishing
Our in-house publisher, Temple University Press, offers ebooks for sale for most of their publications. In addition, North Broad Press, the open publishing arm of Temple University Press and Temple University Libraries, produces open textbooks, freely available online for anyone to access.
Check out this North Philly Notes blog post highlighting the Press' open access books, journals, and collaborations in celebration of National Library Week.
Equipment for use
Technical equipment available for check out from Charles Library includes portable DVD players, calculators, cameras, and a Raspberry Pi. Ginsburg Library offers noise canceling headphones, calculators, laptop stands, power strips, and chargers.
---
There are dozens of ways to connect with the Libraries and our technology. We hope you will join us in celebrating National Library Week by checking out some of these resources.