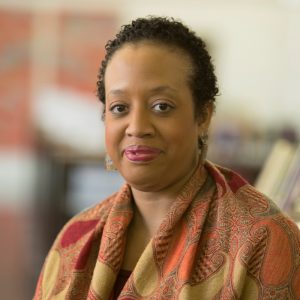 In late September, friends and colleagues gathered on Zoom to honor Temple University Librarian Latanya N. Jenkins, who died April 13, 2021 at the age of 45. She was a treasured colleague and continues to be dearly missed. 
Here at the Libraries, Latanya was the Africology and African American studies and government information subject librarian. She served on the Temple University Faculty Senate Committee on the Status of Faculty of Color, the International Programs committee, the Academic Center on Research in Diversity (ACCORD) steering committee, and the Global Women's Dialogue steering committee.
Latanya was also very active in the field as a member of ALA's Government Documents Round Table, the Association of College and Research Libraries (ACRL), and ACRL's African American Studies Librarians Interest Group, among others. She frequently published and presented on government documents and information and on diversity, equity, and inclusion. Latanya was a contributing author to Government Information Essentials, which was awarded the Margaret T. Lane & Virginia F. Saunders Memorial Research Award by the Government Documents Round Table of the American Library Association in 2019. In 2020, Latanya was named a Library Freedom Institute fellow. Before joining Temple Libraries in 2013, Latanya was a reference librarian at Morgan State University and Bowie State University, both in Maryland.
Betsy Sweet, assistant professor of equitable and sustainable development at the University of Massachusetts Boston, worked with Latanya in several different capacities while teaching at Temple. During the program, Dr. Sweet noted: "I am very grateful that I had the opportunity to work with Latanya. Her intellect was so amazing; it sparked so many ideas. She was so hard working and so compassionate… you could read her smile coming through her emails and texts. She was so so loved by so many of her colleagues."
Joe Lucia, dean of Libraries, noted that Latanya had been working toward regular appointment as a librarian at Temple, which librarians can apply for after six years of employment and increasing professional accomplishments. She received promotion and regular appointment prior to her death. He added: 
I do want to say just on a personal note that one thing about Latanya was that she was a uniquely light-hearted spirit among us, even when she was dealing with the tremendous burden of her illness. One of the ways she was recognized as a presence in the library is that oftentimes you heard her singing in the distance and knew that she was around. She always had a song in her heart.
Kimmika Williams-Witherspoon, associate professor in Temple's School of Theater, Film, and Media Arts, worked with Latanya on the Faculty Senate Committee on the Status of Faculty of Color. She led the Chat in the Stacks program in memory of Latanya, and said:
We wanted to do something more than just commemorate and celebrate Latanya's life today. We wanted to do something ongoing. And so we've started a memorial fund. It will support programming and diversity, equity, and inclusion initiatives amongst the Libraries… We've all been touched in some way by Latanya Jenkins, and I'm laying it on your heart to figure out a way for her memory to stay at Temple in perpetuity. This memorial fund will be just that.
You can donate to the memorial fund in Latanya's memory at giving.temple.edu/LatanyaJenkinsMemorialFund. If you'd like to view the video, please email libraries@temple.edu.