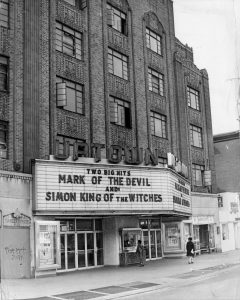 The Uptown Theater, located at 2240 North Broad Street, opened on February 16, 1929. The five-story Art Deco theater was designed by the noted architectural firm Magaziner, Eberhard and Harris, and featured a terracotta façade, high ceilings, stain-glass windows, plush carpets and velvet seats. The theater was originally owned by the Stanley Theater/Warner Brothers chain, and movie-goers included wealthy industrialists and working-class immigrant families that resided along the bustling North Broad Street corridor.

In the decades following the Great Depression, with the collapse of Philadelphia's manufacturing base, and rising unemployment and crime, many white residents moved out of Philadelphia and into the suburbs. By the 1950s, North Philadelphia had become the center of African American culture as the Black population grew significantly due to migration from southern states, and the pervasive practice of housing discrimination that limited the mobility of many African Americans to inner city neighborhoods.

Theater mogul Samuel H. Stiefel purchased the Uptown Theatre in 1951, where he promoted live rhythm and blues, gospel, and soul music shows that targeted African American audiences. The theater became a pivotal player along with the Apollo Theater in New York, the Howard Theater in Washington, DC, and Regal Theater in Chicago, on the "Chitlin Circuit." This nationwide network of performance venues helped to advance the careers of Black singers, musicians, and comedians in the era of Jim Crow and racial discrimination at white mainstream entertainment spots.

In its heyday, the Uptown featured performances by Ray Charles, James Brown, The Supremes, Stevie Wonder, The Jackson Five, Patti Labelle, and the Temptations, to name a few. Comedians such as Redd Fox and Flip Wilson also performed at the Uptown Theater. The theater hosted amateur nights where local artists could compete for prizes. The Uptown was also unique in that it had its own house band. The longest tenured band director, Sam Reed, led the band from 1963 to 1971.

From 1957 to 1972, WDAS personality and civil rights activist Georgie Woods produced the groundbreaking shows at the Uptown and played a key role in the economic growth of the neighborhood as theatregoers shopped and dined in the surrounding businesses. Georgie Woods also organized "Freedom Shows" held at the Uptown. The money raised from these events funded various civil rights organizations and causes.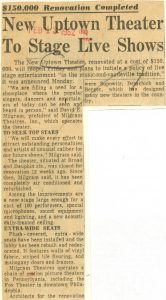 The Uptown Theater closed in 1978 due to continued neighborhood decline following the riots, "white flight," and changes in the music industry. It was used as a church in the 1980s before storm damage and neglect forced the building to close in 1991. In 2001, the Uptown Entertainment and Development Corporation (UEDC) headed by the late Linda Richardson purchased the building. In the years following UEDC's acquisition, they secured funding from private and public resources , beginning renovations on the building to include a theater, technology center, artist lofts, and office space. In 2019, the Uptown commemorated its 90th anniversary by relighting the marque. The organization envisioned that the Uptown would serve as a hub for the cultural and economic regrowth of the neighborhood, and play an important role in the ongoing revitalization of the North Broad Street corridor. The Uptown is scheduled to reopen sometime in 2022.

The Uptown Theater was added to the National Register of Historic Places in 1982.

–Brenda Galloway-Wright, Associate Archivist, Special Collections Research Center