The Sp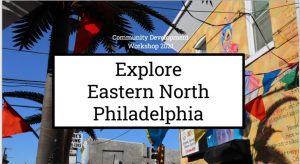 ecial Collections Research Center (SCRC) is pleased to present our latest faculty and student exhibit collaboration, Explore Eastern North (Philadelphia), a display of posters created by students in Associate Professor of Planning and Community Development Lynn Mandarano's Community Development Workshop course in the Tyler School of Art and Architecture. This course is a capstone class for the Community Development major and the work displayed in this exhibit is the culmination of three years of work with the community partner, Asociacion Puertorriquenos en Marcha (APM).

After an initial orientation, where the entire class received an introduction to the SCRC and learned about finding and using archival materials, a smaller group of students, tasked with historical research of sites in the neighborhood, made several return visits to the SCRC reading room.
Eventually, the students focused their efforts on sites in three areas: Lehigh Avenue, North 5th Street, and Germantown Avenue. SCRC collections used were photographs from the Philadelphia Evening Bulletin and items from our Urban Archives pamphlet collection.
These teams also conducted research at Taller Puertorriqueño, a community organization based in North Philadelphia that uses art and cultural programming to promote development within its community and the Puerto Rican and Latino Diaspora. In addition to archival research, students conducted neighborhood walkthroughs and interviewed community members to identify sites of historic significance.  
Another group of students tasked, with creating posters and graphics, received training and technical assistance from the Library's Loretta C. Duckworth Scholars Studio to produce the eye-catching graphics and posters utilizing some of the materials located by the archival research teams.  A selection of those items from the SCRC are also on display, next to the posters that they inspired. 
Posters created by the students and a selection of photographs, pamphlets, and other related materials from the SCRC will be on display on the first floor of Charles Library in the main lobby throughout late January 2022.   Exhibit production was funded through generous support from The Albert M. Greenfield Foundation Civic History Fund.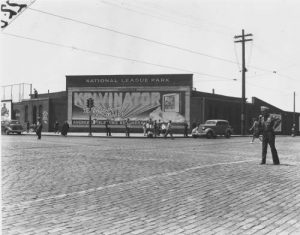 –Josue' Hurtado, Coordinator of Public Services and Outreach, SCRC