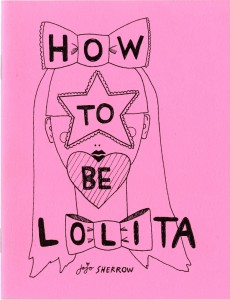 During the Spring 2016 semester, "Lesbian, Gay, Bisexual and Transgender Representation" (MSP 4425/LGBT 3400), an undergraduate course in the Department of Media Studies and Production taught by Dr. Adrienne Shaw, worked within the Special Collections Research Center, as well as with the John J. Wilcox, Jr. LGBT Archives at the William Way LGBT Community Center, to complete several assignments. The class investigates the history of LGBT representation in popular media in the United States since the 1960s.
The class visited SCRC several times for introductions to using special collections materials  and various collections, students returned individually to conduct research on their own. They each selected two zines from the collection and wrote an essay on themes found within them, and completed a timeline and report on an event in Philadelphia LGBTQ history using LGBTQ resources available in the SCRC and the John J. Wilcox, Jr. LGBT Archives.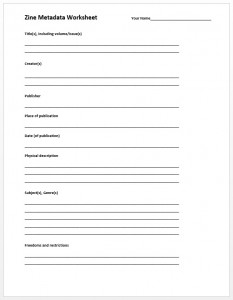 During one visit, the students were given an introduction to metadata by SCRC staff, and completed an assignment to create their own metadata for a zine in the SCRC collection. The class included an explanation of what metadata is and does, both generally and in a library; what makes metadata important; and some issues related to creating metadata.
The issues discussed were directly relevant to the purpose of the course,  including how metadata is inherently about the problematic act of applying labels to things; standardized metadata requires the use of terms determined by someone with their own biases; and applying labels to information resources puts the metadata creator in a position of power and authority.  Issues related specifically to zines were also discussed, including how they're often about sensitive, personal topics; they are frequently created by people from underrepresented groups; and they are occasionally written by people who do not want to be identified.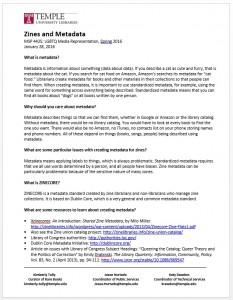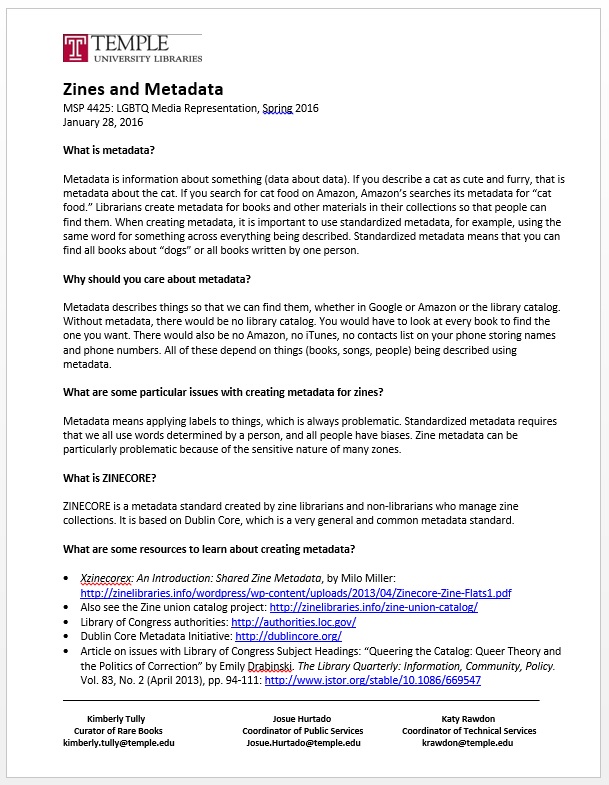 The students then completed an assignment to create their own metadata. They selected one zine from the collection, and completed a metadata form based on the ZineCore elements. SCRC staff and Dr. Shaw answered questions about how to describe a zine with, for example, no author or title; what to do if a zine listed no author but the student knew the name of the author; and how to come up with subject descriptions for sensitive topics.
A small selection of the Beth Heinly Zine Collection has been digitized and is available online. For more on ZineCore, see the ZineCore Zine.
–Katy Rawdon, Coordinator of Technical Services, SCRC