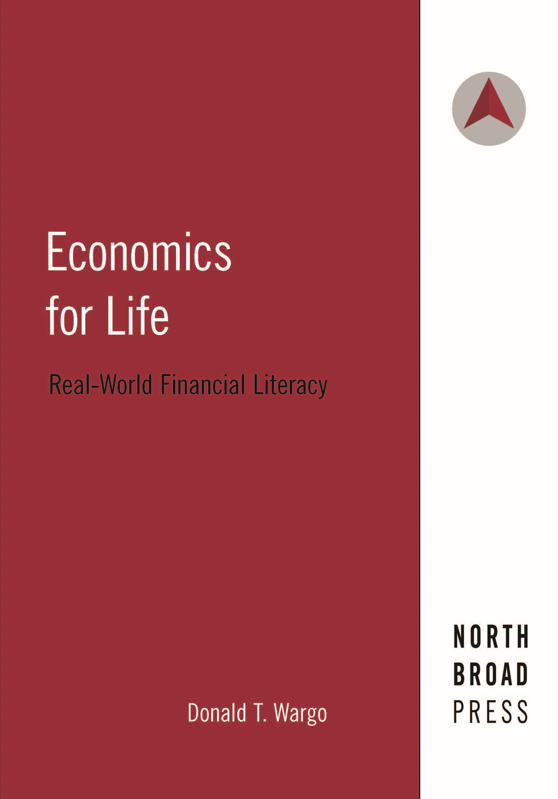 North Broad Press, the joint Temple University Libraries and Press imprint, has published its fourth open textbook! Economics for Life: Real-World Financial Literacy, by Dr. Donald T. Wargo, is now available open access on the Press's Manifold platform and on the Press website.
Wargo, Associate Professor of Instruction in the Economics department at Temple University, has for several years taught an undergraduate course on financial literacy as part of Temple's general education program. In the process of planning for and teaching his course, Wargo realized that not only did his students lack an understanding of financial decision making—including credit card use, making large purchases such as a car or home, and retirement planning. Opportunities for guidance on these major decisions were limited.
Wargo found that the available textbooks on the subject lacked the breadth and depth he believed was necessary to prepare students for the numerous decisions they would be facing, This, coupled with the high cost of the commercial textbook he had been using, led him to submit a proposal for an original open access textbook to North Broad Press. As he noted in his proposal, "Economics for Life: Real-World Financial Literacy is designed to help soon-to-be college graduates emerge into the start of their 'real lives' with better comprehension of how to analyze the financial decisions that they will soon have to make."
With chapters on creating and living within a budget, evaluating and managing debt, and the fundamentals of investing, Economics for Life's approachable style and accessible content make it an ideal book for anyone looking for practical guidance. Readers will learn how to use financial data to make informed personal finance decisions. The book's Manifold site also includes a supplemental resource—an article by Wargo on the explanation and impact of the "pandemic recession," defined as mid-February to mid-April 2020.
About the author
Dr. Donald T. Wargo is an Associate Professor of Instruction in the Economics department at Temple University. His specializations are in Real Estate, Behavioral Economics and Neuroeconomics. Prior to his teaching career, he held executive positions in several large real estate companies in the Philadelphia area, including Vice President of Finance and President. For fifteen of those years, he ran his own development company, Wargo Properties, Inc.
About North Broad Press
North Broad Press publishes peer-reviewed open textbooks by Temple faculty and staff. It operates under the following core principles:
We believe that the Libraries and the Press are critical resources for publishing expertise on campus.
We believe that the unfettered flow of ideas, scholarship and knowledge is necessary to support learning, clinical practice, and research, and to stimulate creativity and the intellectual enterprise.
We support Temple faculty, students, and staff by making their work available to audiences around the world via open access publishing.
We believe that the scholarly ecosystem works best when creators retain their copyrights.
We believe in experimentation and innovation in academic publishing.
We work to decrease the cost of higher education and improve learning outcomes for students by publishing high quality open textbooks and other open educational resources.
We believe in the importance of diversity, equity, and inclusion, and promote these values through our publications.
We commit to making our publications accessible to all who need to use them.
We believe place matters. Our publications reflect Temple University and the North Philadelphia community of which we are a part.