Happy Open Education Week! During this week, we celebrate and advocate for open educational resources. Open educational resources (also called OER) are defined by SPARC as "teaching, learning, and research resources that are free of cost and access barriers, which also carry legal permission for open use." These are teaching and learning materials — like videos, slide decks, podcasts, worksheets, and textbooks — that are free to access, use, share, and modify in the digital environment without copyright concerns because their creators have given others permission to do so.
Why are open educational resources so important? For students, their biggest appeal is they are zero or low cost. Open textbooks can save students hundreds of dollars each semester. For faculty, OER offer an opportunity to craft course materials that are highly relevant, current, and meaningful for their discipline. In addition to remixing and modifying existing materials, faculty can create new materials or textbooks.

Temple University Libraries and University Press's joint imprint North Broad Press provides Temple faculty with an opportunity to author their own open textbook. All North Broad Press titles are peer reviewed and freely available online. Check out a list of 17 open textbooks in progress.
To learn more about why Temple faculty are driven to author an open textbook, we spoke with Dr. Carmelo A. Galati, Associate Professor of Instruction and the Co-Director of the Italian Studies Program at Temple University. Dr. Galati is the author a new open textbook, Gratis!: A Flipped-Classroom and Active Learning Approach to Italian, which is currently under review with North Broad Press. This textbook is intended for students with no previous knowledge of Italian.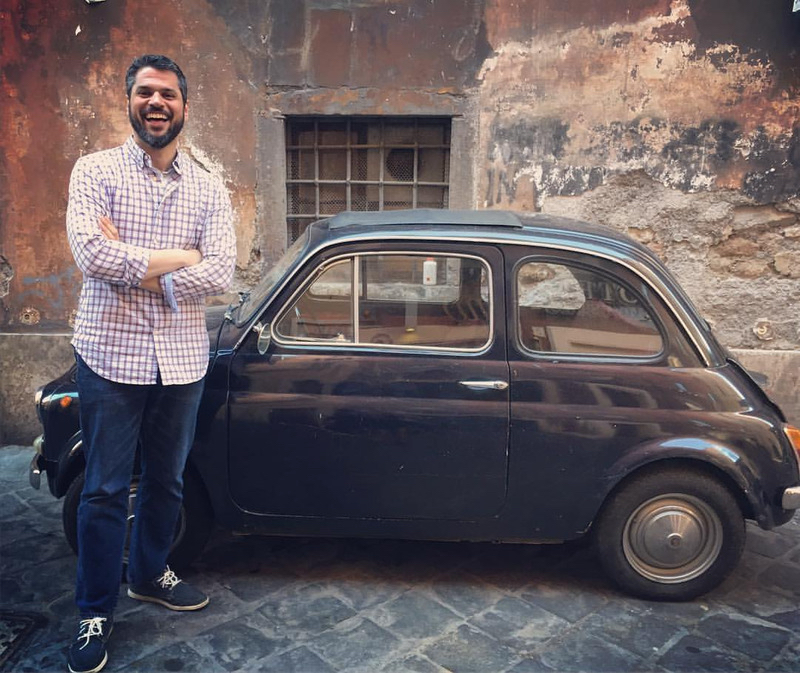 Why did you choose to write Gratis!: A Flipped-Classroom and Active Learning Approach to Italian as an open textbook?
While leading a session on active learning for teachers of Italian at a professional workshop under the jurisdiction of the General Consulate of Italy in Philadelphia and the Italian Ministry of Education (October 2019), my colleague, Dr. Cristina Gragnani, and I discovered university students are not the only ones affected by the high and growing cost of language textbooks. High school programs are also facing issues and are unable to provide students with affordable educational tools to promote the Italian language and culture. Temple University's Italian Studies program's work within the Philadelphia community to disseminate Italian culture dates to the early 20th century. In support of that pioneering work educating students and promoting Italian culture, we created an open-access, introductory-level Italian textbook for Temple University students, as well as high school students in the greater Philadelphia area and beyond. Doing so makes foreign language study accessible to all and places Temple University at the forefront of internationalization at the secondary education and university levels.
Tell us about the process of publishing this textbook with North Broad Press, the joint open access imprint of the Libraries and Temple University Press.
Prior to Gratis! I did not have experience in textbook publications, as most of my writing projects dealt with peer-reviewed academic journals and edited volumes. Thanks to the guidance of Annie Johnson (former Assistant Director for Open Publishing Initiatives and Scholarly Communications), Mary Rose Muccie (Director, Temple University Press), and Alicia Pucci (Scholarly Communications Associate), the process has been a positive and rewarding experience. From the very first day of being contracted to author Gratis! everyone at North Broad Press has been very supportive and has shown great enthusiasm for the project. Whenever questions arose regarding copyright, formatting, use of videos, or anything in between, they were quick to respond by email and to schedule video conferences with me should I need further clarification.
You chose a Creative Commons license for your textbook. Were you familiar with Creative Commons prior to this project?
I was not familiar with Creative Commons (CC) prior to the project. As a language textbook, Gratis! is filled with lots of images to introduce, reinforce understanding of, and assess vocabulary knowledge of each lesson and unit. Creative Commons has made the inclusion of images much less stressful since I did not need to purchase individual licenses for the book's photographs. Furthermore, in choosing a CC license for Gratis!, instructors who wish to adopt it are free to add more material. This may include new integrated grammar or vocabulary exercises that align with the context of each chapter. The CC license allows instructors to choose cultural reading materials to assess reading comprehension as well, since educators can write and add additional reading content to the book.
You received an OER Development Grant from the PA GOAL program. Did this impact how you envision faculty and students using this textbook?
The OER Development Grant supported the development of videos, images, and interactive H5P exercises that serve as ancillary materials and provide students with instant feedback. The grant provided funding for four undergraduate Italian majors (Aidan Giordano, Andrew Raker, Julia Rudy and Eileen Scanlan), studying at our Temple University Rome campus, working with two Italian faculty members and the Director of Student Activities (Daniela Curioso, Bruno Montefusco, and Gianni Marangio, respectively), to create original video content for each of the textbook's chapters. The students' contributions allow language learners to experience studying abroad virtually through videos that document their travels around Rome, provide a virtual campus tour of Villa Caproni (the building which houses the Temple Rome campus along the banks of the Tiber River), and record interviews with local Italian university students discussing differences between the American and Italian Educational system.
Thanks to the OER Development Grant, Gratis! emulates the leading publishers in providing students with competencies that they will acquire by the completion of each chapter. Units include specific vocabulary that integrates grammar and culture lessons, while online ancillary materials provide students with additional support and instant feedback.
All the unique videos, images, and H5P exercises that appear in Gratis! can be found in TUScholarShare's Teaching and Learning Materials collection for download and reuse.
What advice would you offer faculty who might be considering authoring an open textbook?
If you are looking for a way to provide affordable educational tools for students and the opportunity to continuously reflect on and update best practices and initiatives to promote diversity, equity, and inclusion, then authoring an open textbook is the way to go! Most Italian language textbooks contain microaggressions that endorse heteronormative culture and behaviors, promote traditional family planning, and ultimately present a false picture of the world in which we live. In writing Gratis! I have been able to represent diverse realities for Italian-language learners and to make the learning process inclusive to all! Gratis! does not promote stereotypes of traditionally conservative Italians. Instead, it teaches inclusive vocabulary regarding the LGBTQIA+ community. It presents students with language regarding places of worship for all faiths, not just Roman Catholicism. In its goal to represent Italy's diverse realities, Gratis! depicts Italians of all cultures, races, and religions.
Thank you, Dr. Galati!
If you feel inspired to create an OER, Temple Libraries can support you! For more information about OER, visit our Discovering Open Educational Resources guide. Contact your subject librarian if you want help locating and implementing OER in your courses. If you're interested in writing your own open textbook, contact Mary Rose Muccie (maryrose.muccie@temple.edu) and Alicia Pucci (alicia.pucci@temple.edu) for more information.