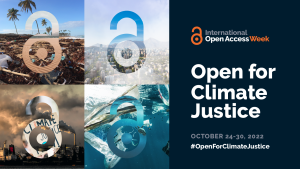 Temple University Libraries is celebrating Open Access Week from October 24-30, 2022. Open Access Week is a yearly international celebration that aims to increase awareness about open access (OA). Most academic work is locked up behind a paywall, available only to those who are affiliated with a college or university. OA scholarship is completely free to read and reuse. Learn more about the importance of openly available scholarship and other related topics at one of our virtual workshops:
Research Data Management Essentials                                                                                                Tuesday, October 25, Noon
If you're performing original research with the intent to publish, you must have a lot of data that you've collected and need to organize. This half-hour session will discuss general funder and journal requirements around data management, sharing, and reproducibility. It will also provide a brief introductory overview of ways to better manage and document your data. We will go over tools and platforms for organizing and sharing your research data.
2023 NIH Policy Changes                                                                                                                               Wednesday, October 26, Noon
On January 25, 2023, the NIH will implement a new policy that will change the requirements for most NIH-funded research. Grant applications for ALL research projects that generate scientific data will need to include a robust and detailed plan for how you will manage and share data during the entire funded period, and researchers will be expected to share their research data in a FAIR (Findable, Accessible, Interoperable and Reproducible) manner.
This workshop will cover the new policy's requirements in detail, including: what kinds of research projects will be affected, what kinds of data must be shared, a brief overview of data management and sharing plans, how to cover costs to meet new requirements, what FAIR data means, and how to choose a repository to deposit and share your data, and special guidance for different research areas.
Developing Your Online Scholarly Profile                                                                                          Wednesday, October 26, 1:00 pm
Having a professional presence online is increasingly necessary for researchers in order to connect with colleagues, find collaborators, and share your research.
Come to this workshop tailored for graduate students and faculty to learn how you can effectively present yourself digitally to find your community online using available researcher identifiers and academic social networks. We'll also offer options for sharing your research with new audiences online and in available repositories, including Temple's own TUScholarShare.
What You Need to Know About Submitting Your Dissertation                                              Wednesday, October 26, 4:00 pm
Are you working on a thesis or dissertation? Are you confused by all the different options and steps when it comes to the submission process? This workshop will help you submit your thesis or dissertation with confidence. We'll talk about copyright, researcher identifiers, embargos, and open access. We'll give you tips on how to use ProQuest's ETD Administrator effectively. And finally, we'll explain how your dissertation ends up in TUScholarShare, Temple's new institutional repository, and what you can do to make it more discoverable.
Organizing Your Research Photos with Tropy                                                                                      Thursday, October 27, Noon
Are you a scholar interested in archival research and need to find a way to make sense of all your digital photos? Take control of your research photos with Tropy, a tool that helps researchers organize and describe the photos they take while visiting archives in intuitive and useful ways.
This workshop will go over how to use Tropy to group photos of research materials, annotate images, add metadata, and export them to other applications.
Spend more time using your research photos, and less time searching for them.