As students traverse the main floor of Paley Library, rushing to and from classes this spring semester, a few stop every now and then to experience the poetry. Spread among the display cases on the first floor of Paley are books and documents from the Temple University Libraries Special Collections Research Center (SCRC) that invite us to explore 20th century alternative and small-press American poetry. As the crush of exams and final projects arrives, exploring this poetry display can be a great way to clear one's mind and do a bit of de-stressing.
According to Margery Sly, Director of the SCRC,all the material in the exhibit comes from SCRC manuscript and rare book holdings. She adds that the display was designed as a journey into our poetry collections that begins with Philadelphia-region forefathers Walt Whitman and Edgar Allen Poe, who were considered radical in their day and moves forward into the work of 20th century poets. The display was also intended to coordinate with a lecture about Whitman, and to also promote the use of the poetry collection for research by Temple students.
Moving among the cases provides insight into poets who be less familiar to us but whose work is significant in the world of poetry. The work of accomplished poets such as John Burnett Payne, Lyn Lifshin, Dorothea Grossman and Tony Quagliano are featured in this display. Browsing the poems, letters and related documents one senses the importance the small press has played in expanding the dissemination of poetry in 20th century America. A small (literally) book of verse, such as Grossman's "The First Time I Ate Sushi" communicates "the fun of speaking English" (a line from her poem Future Past).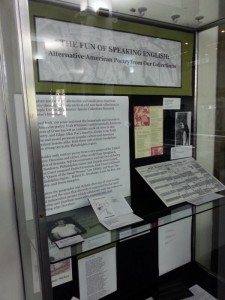 If you want to explore those other iconoclasts and innovators of American poetry, scattered among the display cases are rare artifacts for Poe and Whitman found in our Special Collections Research Center. Then proceed up the stairway to the mezzanine level where you will find several cases dedicated to Poe and Whitman. There you will find some unique items documenting the lives and works of these great writers. This exhibit will remain in Paley Library through August. Be sure to take some time to explore before it returns to the SCRC.