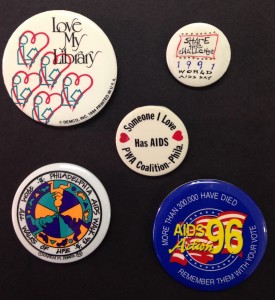 The AIDS Library, located in Center City, Philadelphia, was founded in 1987. The mission of the library is to provide information and support to those infected by HIV/AIDS as well as to caregivers, other AIDS service organizations, medical practitioners, case managers, hospitals, family members, partners, and friends of those infected with and affected by the virus. The library is a part of Philadelphia FIGHT, a local health services organization working with people with HIV/AIDS, provides resources, internet access, educational programs, and one-on-one assistance to the public.
The AIDS Library Records in the Special Collections Research Center came to Temple in 2007. Byron Lee, a volunteer, processed the records. The collection contains administrative records as well as materials previously used but now withdrawn from the library's collection–monographs, serials, pamphlets, collections of article and newspaper clippings, collections of community newsletters, and information files. The majority of the collection covers the early years of the AIDS epidemic and early activist and political activities from around 1986 to 1997. Additional transfers from the library are in process.
The collection documents one of the earliest organizations founded to educate those affected by HIV/AIDS and their communities and families. Materials detail the evolution of the library as an organization, and the many pamphlets, reports, and other publications document resources available about the AIDS epidemic. Materials by and about other Philadelphia-area organizations, as well as newspaper clippings, photographs, pins, and other ephemera, provide a glimpse of the lesbian, gay, bisexual, and transgender community in Philadelphia during 1980s and 1990s.
The Special Collections Research Center is fortunate to hold a number of other collections related to the history of the Philadelphia LGBTQ community. These include the Philadelphia Lesbian and Gay Task Force Records which contain organization records, educational program records, and videotapes and audio cassettes documenting public service announcements, news reports, and events. The Scott Wilds Papers include articles, clippings, correspondence, magazines, newsletters, and reports from this Philadelphia gay activist, and include information related to political organizations, candidates, and various Philadelphia elections.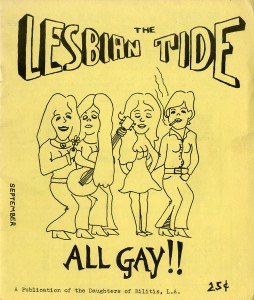 The SCRC also holds a variety of newspapers and magazines published by and for the LGBTQ community both in Philadelphia and further afield, including: Philadelphia Gay News, 1973- today; the PLGTF Bulletin, 1978-82; Gayzette, 1974-75; G.L.A.D. Briefs, 1979-1986, New Gay Life, 1977-78, The Baltimore Gay Paper, 1984-87; Common Lives, Lesbian Lives, 1983-1996; The Lesbian Tide, 1971-75 and 1978-80; and Kater Street, 1978-83.
–Katy Rawdon, Coordinator of Technical Services, SCRC