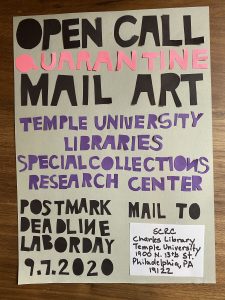 Temple University Libraries' Special Collections Research Center (SCRC) has issued an open call for quarantine mail art. We're collaborating with our Learning & Research Services colleague, Art and Architecture Librarian Jill Luedke, who has worked closely with the SCRC's existing Mail Art Collection.  She noticed the reemerging popularity of mail art during the COVID-19 pandemic and suggested that we do a new call for mail art to help document this unprecedented time.

What is Mail Art?

The term mail art was used as early as 1971 to describe a genre of art that had been making its way through the art world for over a decade. In the late 1950s, American artist Ray Johnson began mailing small drawings, collages, and prints to constituents in the art world, including his close friends, mild acquaintances, and even non-acquaintances such as artists, gallery owners, and curators. Through this correspondence, a network of mail artists formed who utilized the postal system as part of the art making process, embracing and often pushing the boundaries of that system. Artists would embellish the envelopes with drawings, rubber stamps, and collages; some manipulated the addresses with creative phonetics. Others experimented with the shipping container by using unconventional materials for postcards and envelopes. In opposition to the mainstream art world, mail artists adhered to egalitarian principles. Their exhibitions were not juried, all submissions were accepted, and no fees were required of the artist for entry.

Mail Art in the SCRC's Contemporary Culture Collection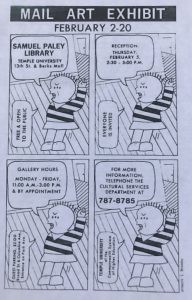 Forty years ago Temple University issued its first mail art call for submissions, and the mail art collection began. The original collection was built as a result of two separate calls for entries for Mail Art exhibitions in 1980 at Temple. The Spring 1980 call was part of a class project with Tyler School of Art faculty Bilge Friedlander and her students. Later in 1980, Friedlander invited Paley Library to participate, resulting in an exhibit in February 1981. The collection, now housed in the Special Collections Research Center, contains over 230 separately posted pieces of mail from over 170 artists, not counting anonymous contributions.  Contributors sent pieces from all over the United States, and there are even some international pieces. A selection of the SCRC's mail art was exhibited in a Spring 2017 exhibit in Paley Library.


We announced the current open call for quarantine mail art on May 18, 2020, and it will run until Labor Day, September 7, 2020. There are no limitations on medium or content; we just ask that submissions be in the mail art genre, specifically small scale works of art sent through the postal service. The call is open to all ages, all artistic abilities, Temple community members, and the general public. All submissions will be added to the Special Collections Research Center's Mail Art Collection and made available in the SCRC for future educational and research use, including publication. Artists are asked to consider applying a CC-BY license to facilitate long term access and use, but it is not required. We will exhibit submissions in late Fall 2020 in Charles Library around the theme of "Interruption."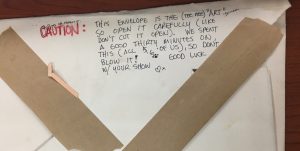 Please send your mail art to:
SCRC, Charles Library
Temple University
1900 N. 13th Street
Philadelphia, PA 19122


We look forward to seeing your submissions!

-Jill Luedke, Art and Architecture Librarian, and Kimberly Tully, Curator of Rare Books