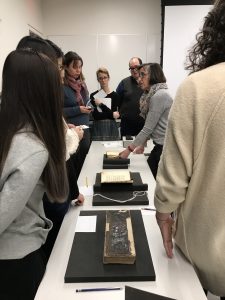 When the new Charles Library opened in August 2019, the librarians and archivists who do instruction using the Special Collections Research Center collections were perhaps most excited about the new classroom adjacent to the department (Multipurpose Room 113). In the SCRC's old space in Paley Library, instruction classes  were almost always conducted in the reading room, which was never an ideal situation.
In the new classroom in Charles, which accommodates around 40 people comfortably, we are able to welcome faculty and students without disturbing our individual researchers in the reading room. In addition, the new classroom space has movable tables and chairs which allows for a variety of setups for display of materials and seating during classes. Standard classroom technology in the form of a projection system and a large screen were also a major upgrade to our existing instruction infrastructure. And, finally, an overhead document or "eye in the sky" camera that enables instructors to project images of physical materials, a page of a rare volume or an archival document in real time, was installed this spring to complete the instructional technology in the space.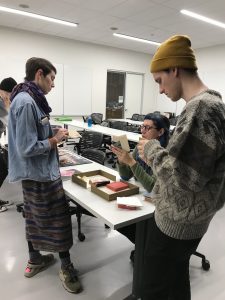 The first class held in the new space in Charles was Alyssa Piro's Artist Books, Zines and Independent Publishing (ARTU 2351) on September 10, 2019. The class was co-facilitated by Kimberly Tully, Curator of Rare Books in the SCRC, and Jill Luedke, Art and Architecture Librarian in Learning and Research Services. The plan for the class was an online introduction to zine culture, copyright, and Creative Commons using the screen and projection system, and then students were invited to browse a selection of zines from the SCRC displayed on the tables in the physical space. This collaboration between librarians to provide both context for class-specific materials and access to the materials themselves has been made much easier in the new classroom.
Throughout the 2019-2020 academic year, the SCRC continued to welcome back returning classes and welcome new faculty and students from a variety of academic departments, including History, English, Photography, Printmaking, Art History, Political Science, Criminal Justice, Latin, Intellectual Heritage, Latin American Studies, Geography and Urban Studies, Journalism, Media Studies, Sociology, and Dance. We also continued to welcome classes from area institutions such as the University of the Arts , Bryn Mawr College, and the University of Pennsylvania.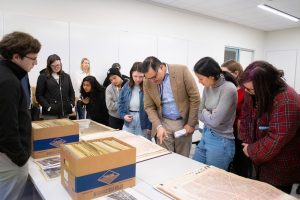 Depending on the nature of the course and the learning objective for the visit, SCRC instructors were able to use technology seamlessly to introduce students to the SCRC and how to access materials and, through the department website, the Libraries' catalog, finding aids, and digital collections. Instructors were also able to display materials in a variety of different room configurations to facilitate student hands-on assignments and engagement. The concept of a "humanities laboratory" came alive again in the SCRC classroom this year in Charles.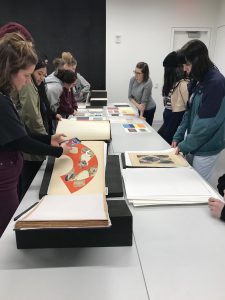 The importance of the new space is reflected in use statistics.  During the fall 2019 semester, we welcomed  59 instruction sessions, each individually tailored to the courses' syllabi and the instructors' needs.  In the shortened Spring 2020 semester, we offered 39 sessions before mid-March.
The new dedicated classroom in Charles Library has transformed the Special Collections Research Center's instructional services, but with new opportunities come new challenges. In March 2020, when all classes at Temple moved to online instruction amidst the COVID-19 pandemic response, many of our scheduled class visits for the final weeks of classes were cancelled or altered. We were able to assist some faculty and students in wrapping up their on-site research in the final weeks of on-campus instruction. And in at least two instances since mid-March, SCRC instructors have maintained their commitment to primary source  literacy by presenting SCRC materials during a class session over Zoom and by interacting with students and faculty in Canvas. While we look forward to connecting students and faculty with our collections in a physical space once again soon, SCRC staff are also exploring how we will continue to adapt. Like many special collections repositories, we  have  some digital collections to draw upon to support both individual research and online instruction, and SCRC public services and instruction staff continue to be available to answer remote research questions and assist in online instruction. Please contact us at scrc@temple.edu for more information.
-Kimberly Tully
Curator of Rare Books