Joseph L. Pollock was a social studies teacher, principal, and administrator for the Philadelphia School District from 1947 until his retirement in 1984. In the 1960s, Pollock worked for the Philadelphia Board of Education, first as assistant to the president of the Board of Public Education, and then as director of informational services, a new division formed to improve effective citizen and community participation in school affairs and serve as a resource center and dissemination agency for school information. In addition to his classroom teaching activities, Pollock also wrote and produced radio and television programs for the Philadelphia School District's Division of Radio-Television Education in the 1950s.
A few years before his foray into the education sphere, while serving in the United States Army, and shortly after V-E Day (May 8, 1945), Pollock co-wrote a burlesque production of Bizet's opera Carmen with fellow soldier Fredd Wayne  Originally intended as a three-day regimental show at the town hall in Tauberbischofsheim, Germany, in June 1945, the performance was so well received by soldiers and military personnel, that the Special Services Division booked the troupe for a tour that lasted eight months, ending in January 1946. Performances were held in Heidelberg, Wiesbaden, Berlin, Bremen, Brussels, Paris, Rome, Vienna, and Nuremberg, among other places. The show's 142 performances were witnessed by more than 250,000 troops and civilians in post-war Europe.
The original cast of G.I. Carmen consisted of 44 combat veterans from the 253rd Regiment, 63rd Infantry Division. Wayne was tasked with playing the lead role. Pollock initially played the role of Dr. Quilton J. Floss, a character parodying Milton Cross, an American radio announcer best known for his New York's Metropolitan Opera House broadcasts. Pollock would later serve as company manager. Costumes for the production were obtained from the Scala Theater in Berlin and music provided by a thirteen piece band directed by jazz guitarist Marty Faloon. The bawdy comedy was done in the style of Ole Olsen and Chic Johnson's Hellzapoppin, a gag-filled musical revue that ran on Broadway between 1938 and 1941.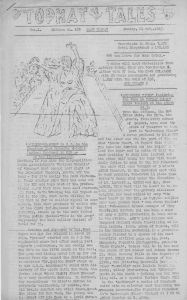 Throughout the run of the show, articles and reviews in numerous GI, military, and civilian newspapers lauded the quality of the production. A day after G.I. Carmen arrived at Camp Tophat's Paramount Theater in Antwerp, Belgium, the following rave review appeared in Tophat Tales:  "…Wayne and Pollock have caught the GI humour of a [Bill] Mauldin and transplanted it to the stage with a maximum of wit, originality, and the sure-fire knowledge of the likes of a soldier audience."
Pollock's papers, including records related to his work as an educator, his World War II military service, and the production of G.I. Carmen are now available for research in the Special Collections Research Center.
Jessica M. Lydon
Associate Archivist, SCRC