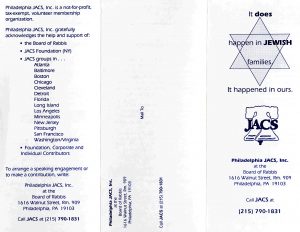 For years, there was a widely held belief amongst many members of the Jewish community that Jews were immune from alcoholism and addiction. According to Rabbi Abraham Twerski, a psychiatrist specializing in substance use disorder, "Any other diagnosis [was] acceptable…even schizophrenia." This belief became untenable in the 1970s as more and more afflicted Jews could no longer be ignored. Some within the community sought to bring to light the pervasive denial while removing the damaging stigma associated with substance abuse. At the forefront was Dr. Twerski. He spoke publicly, advocated for the revision of the 12-step recovery model to fit Judaism, and founded the Gateway Rehabilitation Center in 1972. More advocates joined the fight not long after. In 1980, a group consisting of recovering Jews and their families called Jewish Alcoholics, Chemically Dependent Persons and Significant Others (JACS) formed in New Yok City. The group dedicated itself to encouraging and assisting Jews suffering from substance use disorder and their families while promoting knowledge and understanding of the disease as it involved the Jewish community.
Around the same time in Philadelphia, members of the Jewish Family and Children's Agency, the Board of Rabbis of Greater Philadelphia, and other community leaders formed the Chemical Dependence Task Force. While the task force was able to plan and execute some amount of recovery programming and education, the group was only able to meet periodically due to their primary responsibilities. Sensing the need for an organization dedicated solely to promoting substance use disorder education and recovery in the Jewish community, task force members, along with other recovery community representatives, united to form the Philadelphia branch of Jewish Alcoholics, Chemically Dependent Persons and Significant Others. While initially associated with the NYC branch, Philadelphia JACS became their own entity by incorporating in August 1984. Philadelphia's mission remained similar to NYC's JACS programs including raising awareness through the media; offering yearly retreats to bring the afflicted and their families together; and starting AA, NA, and Al-Anon meetings in synagogues around the area.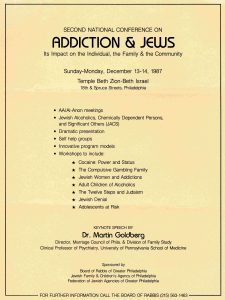 From its inception, JACS shared strong ties to the Board of Rabbis of Greater Philadelphia. The Board of Rabbis provided office space as well as material, logistical, and programming support. But beyond support for JACS, perhaps the Board of Rabbis' most significant contribution to the recovery community was the co-sponsoring and coordination of the 2nd National Conference on Addiction and Jews in 1987. After the success of the first conference in New York in 1986, the Council of Jewish Federations asked the Board of Rabbis "to convene and coordinate the next national conference to be housed in Philadelphia." The title of the conference was "Addiction and Jews: Its Impact on the Individual, The Family, and the Community." The programming cast a wide net and was considered a step forward for the Philadelphia recovery community.
To learn more about Board of Rabbis' records collection, contact Temple University Libraries' Special Collections Research Center at scrc@temple.edu or visit https://library.temple.edu/collections/5
Casey Babcock
–Project Archivist, SCRC