The Special Collections Research Center has recently joined many other special collections libraries and archival repositories around the world in highlighting their collections one square photo at a time on the hugely popular Instagram platform. We already have a presence on Facebook (@SCRCTemple) and Twitter (@SCRC_Temple) but adding Instagram to our social media outlets has allowed us to expand not just the length of our identifying captions but also broaden our virtual audience. No matter what the social media platform, our ultimate goal is to reach potential researchers where they are "hanging out" and consuming much of their daily dose of information.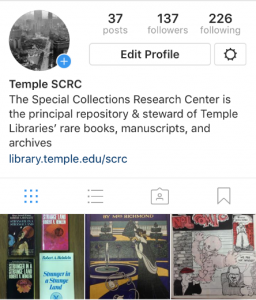 Various staff members working with special collections and archival materials are tweeting out images from our collections as they go about their daily work, featuring items from the SCRC's extensive collections, including the Urban Archives, the Philadelphia Jewish Archives Collection, the Paskow Science Fiction Collection, the Contemporary Culture Collection, our rare book collections, and the Temple University Archives to name a few. We are tagging all of our posts with the hashtag #librariesofinstagram which signals to users that they are viewing images from a library setting. We are often posting current event-related images and participating in the occasional #librarychallenge when multiple libraries post related images.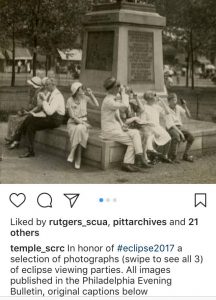 Our Instagram handle is @temple_scrc and we invite you to follow us to learn about our collections, exhibits, instruction, programs, and more. And, yes, there will be an occasional cute baby animal picture, like the lion cubs shown here, from the newly processed Philadelphia Zoo Records!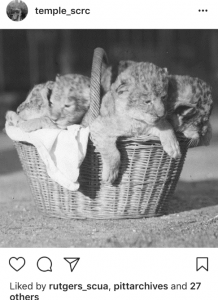 –Kim Tully, Curator of Rare Books, SCRC