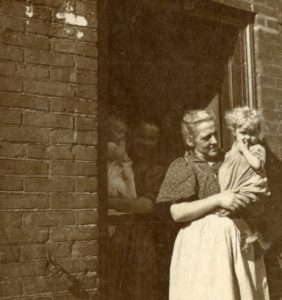 The Octavia Hill Association was incorporated in 1896 to improve working class housing conditions through the sympathetic management of dwellings which it purchased and renovated. The association's activities were modeled after the work in London of Octavia Hill, with whom one of its founders, Helen Parrish, had studied. Helen Parrish who served as secretary for the association, kept a diary in 1888, and created correspondence, notes, reports, and other publications describing the associations' work, (1888-1943).  The OHA archives are housed at Temple University Libraries' Special Collections Research Center.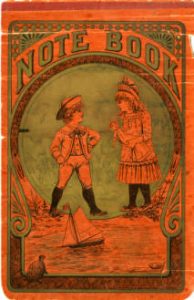 Parrish's 1888 diaries (in three volumes) were recently digitized and describe her "friendly visits" to OHA's  tenants.  In common with other social welfare activists of the era, Parrish and other agency staff members believed that part of their role was to police tenants'  behavior.
Dr. Christina Larocco who surveyed the collection as part of the In Her Own Right grant project, notes:  "It is rare for historical figures to lay out their thoughts, influences, and goals so explicitly. Helen Parrish emerges as a figure as complex and compelling as Jane Addams, one whose life and work encapsulate the central paradox of Progressivism as both altruistic and coercive. This collection adds new evidence to the perennial debate over which characteristic more fundamentally describes this movement. Moreover, these papers reveal Philadelphia to be a city as important to Progressive reform as New York and Chicago, not only within the U.S.but also as a hub in the transatlantic circulation of Progressive ideas."
In addition to the diaries, many of the images in the OHA archives have been digitized, illustrating housing interiors and exteriors before and after renovations, court yards, and street scenes around Philadelphia.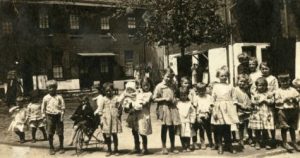 Additional material from the Octavia Hill Association archives is in the process of being digitized and will be available both through Temple Libraries and through a pilot site "In Her Own Right:  Women Asserting Their Civil Rights, 1820-1920,"  being built as a part of a NEH planning grant received by the Philadelphia Area Consortium of Special Collections Libraries which looks toward commemorating the 100th anniversary of women receiving the vote in 2020.
–Margery N. Sly, Director, SCRC