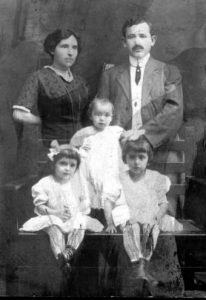 As early as the 1890s, immigration bills with provisions for literacy tests were introduced in Congress as legislative measures to control the influx of immigrants into America. On several occasions these proposed literacy tests were passed by both houses of Congress, only to be vetoed later by the President.  In 1897, for example, Grover Cleveland rejected a proposed literacy law on the basis it was "unnecessarily harsh and oppressive."
Beginning in 1907, the United States Immigration Commission, under the leadership of Vermont Senator William Paul Dillingham began its work to address the growing nationalist concerns over the ever increasing numbers of immigrants (over 1 million annually between 1905 and 1907) arriving each year. The Dillingham Commission completed its work in 1911 and concluded that immigration from Southern and Eastern Europe posed a serious threat to American society and culture and should therefore be greatly reduced. It further called for regulation of the "kind" or "type" of immigrants admitted to the U.S.
The Dillingham Commission's work was part and parcel of a wave of xenophobic and nativist sentiment in the early twentieth century, which saw numerous immigration restriction bills introduced to Congress with measures that included not only literacy tests, but also head taxes and specification of "barred" or "undesirable" immigrants by geographic and ethnic origin, physical and mental health status, and socioeconomic means. As the twentieth century unfolded, this nativist sentiment drove a progression of severely restrictive immigration legislation.
William Howard Taft vetoed a 1913 bill including a literacy test, as did Woodrow Wilson in 1915, asserting that "it excludes those to whom opportunities of elementary education have been denied without regard to their character, their purposes, or their natural capacity." Wilson vetoed a restrictive immigration bill containing a literacy test provision for the second time in 1916; however Congress was successful in overriding that veto.   On August 17, 1916, in support of the bill, Republican Senator William E. Borah of Idaho stated "we ought to have our fences up and be thoroughly prepared to protect those in this country who will be brought into competition with the hordes of people who will come here."
The Immigration Act of 1917 enacted the literacy test as law and expanded the list of "undesirables" barred from entering the country including all persons originating from a geographic area termed the "Asiatic Barred Zone," a region that included much of East and Southeast Asia and the Pacific Islands.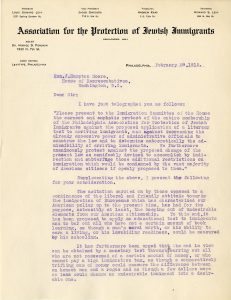 Many individuals and organizations engaged in debates on immigration as this legislation was introduced, including Louis Edward Levy, a prominent figure of Philadelphia's Jewish community. Levy spoke out against the literacy test as a prerequisite to entry into the United States. He did so both as a private individual and as President of the Association for the Protection of Jewish Immigrants, in published writing and in speeches and testimony. Recently prepared for research use, the Maxwell Whiteman Collection of Louis Edward Levy Family Papers, housed in Temple University Libraries' Special Collections Research Center, includes some of these writings, extensive correspondence, and accounts of speeches that Levy gave on the subject.
The Levy Family Papers document the activities of Louis Edward Levy, the Association for the Protection of Jewish Immigrants, and other local and national immigrant aid societies and their efforts to mobilize and coordinate collective action against immigration restriction in favor of more liberal immigration policies. To use the Levy Family Papers, request materials from the finding aid  for use in the SCRC Reading Room in Paley Library, or view a digitized selection of files from the papers.
Anastasia Chiu, Resident Librarian
Jessica M. Lydon, Associate Archivist, SCRC