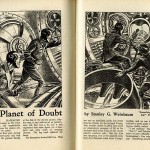 Recently, a reference request came in through the Special Collections Research Center general email, asking for information about three of our science fiction manuscript collections: the Stanley G. Weinbaum Papers, the Lloyd Arthur Eshbach Papers and Fantasy Press Archives, and the Arthur Leo Zagat Manuscripts. While the Weinbaum papers already had a finding aid on our web site, it needed revision.  The Eshbach and Zagat collections had finding aids in electronic format, but they had not yet made it onto our web site.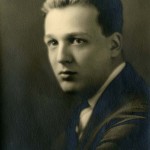 We call these "legacy finding aids" – finding aids written some years ago, that likely do not meet current archival structures and standards, and which require some revision before we can make them available online. Working through these finding aids and posting them to our web site is an often lengthy process, but a satisfying one in that it greatly increases awareness of the collections in question.
The Paskow Science Fiction Collection within the SCRC is perhaps best known for its extensive holdings of science fiction and fantasy books. In addition to multiple editions of primarily 20th century books, the collection contains pulp magazines, general and Star Trek/Klingon-related fanzines, posters, fliers, and convention ephemera.
Less well known is the fact that the science fiction collection also contains manuscript materials.  The papers of Lloyd Arthur Eshbach, Tom Purdom, John Varley, Stanley G. Weinbaum, Felix Gotschalk, Arthur Leo Zagat, the Enterprising Women Fan Fiction Collection, and the Arthur Langley Searles Collection of H. P. Lovecraft Research Files are a few of the gems found in the collection.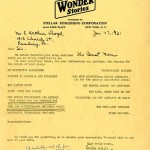 The Weinbaum, Eshbach, and Zagat collections all contain a mix of manuscripts of published and unpublished short stories and novels, and correspondence with editors, agents, publishers, and authors. Much of the material is from the 1930s and 1940s, and provides a glimpse into that era of science fiction writing and publishing, particular in the pulp magazine area.
SCRC staff are working to verify existing inventories, update and standardize the format of finding aids, and prepare our collections for research use. The Weinbaum, Eshbach, and Zagat papers are three such collections that are now ready and waiting for interested researchers to visit the SCRC and discover their amazing content.
–Katy Rawdon, Coordinator of Technical Services, SCRC