In their new book, Black Samson: The Untold Story of an American Icon (Oxford University Press, 2020 // TU copies; Amazon), Nyasha Junior and Jeremy Schipper describe and illustrate how the biblical Samsom became a cultural icon to the Black community. Samson appears in the Book of Judges, chapters 13 to 16 (excerpts below). Though a relatively minor character when compared to Moses, Solomon, or David, Samson has experienced a surprising afterlife in American history. As early as the American Revolution, the enslaved and free Black community identified with Samson, his prophetic birth, his awesome strength, and his enslavement by and resistance to the Philistines.
Today our culture is less Bible-literate than in the past, but most people have at least heard bits and pieces – narrative fragments – of the Samson story, even if they cannot arrange them into a coherent picture or even recognize their provenance. With long, beautiful locks as the source of his strength, Samson killed a lion with his bare hands, slew a thousand men with the jawbone of an ass, courted and fell prey to Delilah, and then was blinded and enslaved by the Philistines before wreaking vengeance on a full house of worshippers at the Temple of Dagon. Latter day artists, poets, and politicians have teased out these threads of the Samson story for their own rhetorical and expressive purposes.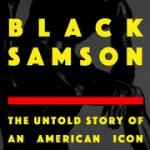 At times Black Samson represented the embodiment of the Black community and its struggles and at other times discrete heroic individuals. Shapeshifting, he has also been used to describe the struggles of Black women, white abolitionists, and the working class. He has even been retrojected into the past as inspiration to slave revolts and uprisings, cast onto the silver screen, and starred in a graphic novel.
I spoke with Nyasha Junior and Jeremy Schipper on November 19, 2020 about their new book, Black Samson: The Untold Story of an American Icon (Oxford University Press, 2020 // TU copies; Amazon), which is available in print, ebook, and audiobook formats.
Excerpts from the Book of Judges 13-16:
13.6 And the Spirit of the LORD came mightily upon him, and he rent [the lion] as he would have rent a kid, and he had nothing in his hand: but he told not his father or his mother what he had done.
15.15 And he found a new jawbone of an ass, and put forth his hand, and took it, and slew a thousand men therewith.
16.19 And [Delilah] made him sleep upon her knees; and she called for a man, and she caused him to shave off the seven locks of his head; and she began to afflict him, and his strength went from him.
16.21 But the Philistines took him, and put out his eyes, and brought him down to Gaza, and bound him with fetters of brass; and he did grind in the prison house.
16.29 And Samson took hold of the two middle pillars upon which the house stood, and on which it was borne up, of the one with his right hand, and of the other with his left.
16.30 And Samson said, Let me die with the Philistines. And he bowed himself with all his might; and the house fell upon the lords, and upon all the people that were therein. So the dead which he slew at his death were more than they which he slew in his life.