"A make-shift stage, a few actors, some stories to tell, and an audience–that's all it took to bring the excitement of the theater to the inner city."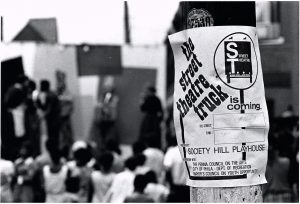 During the summers of 1968, 1969, and 1970, the Society Hill Playhouse (SHP) took theater to the streets of Philadelphia and Camden. SHP inaugurated its Street Theatre Program for "Better Break '68," a program created by Philadelphia Mayor Jim Tate's Council on Youth Opportunity. The Better Break program collaborated with businesses, organizations, and individuals across the City to offer a variety of educational, recreational, and cultural opportunities for Philadelphia's youth and families.
SHP's Street Theatre was among several performing arts entertainments offered as part of Better Break. It turned a flatbed truck into a stage, which traveled to neighborhoods across the City. A deliberately integrated cast performed a series of skits that addressed tenant life and the Vietnam War, among other relevant issues of the day, and offered some upbeat musical numbers as well.
Street Theatre was reportedly well received by the neighborhoods and internationally praised. The troupe gave over 60 performances in 1969 alone, with many neighborhoods requesting the return of the truck from the previous summer. Some neighborhoods even coordinated block parties and other events around the performances. Photographs of Street Theatre were included in the U.S. Information Service's, "Theater Now," which was exhibited in the Near East, Far East, and North Africa. It was also featured in a Canadian Broadcasting Corporation documentary. Rene Bonniere of the CBC, reflected in a letter to SHP co-founder, Deen Kogan, "… after touring the greater part of the United States it was one of the most interesting experiments we found dealing not only with the theater but also with human relationships."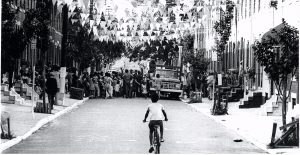 Deen Kogan and husband, Jay – both Temple graduates – launched SHP in 1959 as Philadelphia's "off-Broadway" theatre for contemporary American and European playwrights. Gradually, it developed a niche in populist comedies, like Nunsense, and, in cooperation with the City of Philadelphia, it presented major productions city-wide. It's other programs included the Writers Project, beginning in 1962, which was dedicated to developing new works, and the Philadelphia Youth Theatre, 1970-1983, which drew students from public, private, and parochial schools. SHP was located in the Society Hill District, housed in the historic former David Garrick Hall. The theater closed on April 1, 2016.
Deen Kogan donated the Society Hill Playhouse Records to the Special Collections Research Center in 2016.  A finding aid is available to provide more information about ithe collection.
– Courtney Smerz, Collection Management Archivist, SCRC