Fueled by pizza, cookies, caffeine, a love of description, and the desire to expose more content about women's history to interested users, 25 archivists, librarians, and graduate students gathered at Temple University Libraries on Friday, May 12, 2017, for a metadata enhancement event.
The Philadelphia Area Consortium of Special Collections Libraries is concluding a one-year NEH planning grant, "In Her Own Right: Women Asserting Their Civil Rights, 1820-1920."  This pilot  project is designed to identify and aggregate material documenting the early struggle for women's rights in the collections of PACSCL's members, focusing on women's efforts to improve the lives of women, children, and families in the 19th and early 20th century, leading to passage of the 19th Amendment and suffrage for white women.  When completed, collection metadata and representative images will be accessible through a single interface–all in time to celebrate the 100th anniversary suffrage in 2020.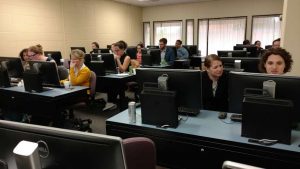 Our project surveyor reviewed 45 nominated collections from 8 PACSCL institutions around themes of the woman suffrage movement, work-related rights and professional opportunities, education, civic activism, and related issues. And from those, the steering committee identified ten collections from seven institutions for the pilot interface. These collections are centered on three themes: 1) Nineteenth Century Work and Friendship Across Racial Lines, 2) Philanthropy or Self-Determination in the Progressive-Era City, and 3) Medical Women Confront Race, Professionalism, and Respectability.  Member institutions scanned content, but a tight time frame did not always allow for robust description.
The brain child of Margaret Graham, Scott Ziegler, and the InHOR project Tech Group, this metadata enhancement event was designed to add searchable data for the letters, journals, diaries, scrapbooks, publications, and pamphlets that tell the story of women working for their and other's rights.    With the additional data, students and scholars will be able to make maps, timelines, network graphs, and other visualizations. This is an experimental approach to enhancing library records for unique items.  For students, this was a great way to get started understanding metadata and its role in visualization and digital scholarship, to meet people in the field who share these interests, and to build their resumes. For digital humanists, archivists, librarians, public historians and everyone, this was a great way to come together as a community to ensure this material is as useful as possible for us all.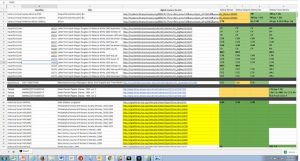 And the results, after almost 4 hours of concentrated work:
Number of items with subjects added: 94
Number of items with names added: 99
Number of items with geospatial info added: 71
Number of items with transcriptions added: 40
Thanks to all the participants for their hard work (four hours of almost silent concentration)! The results are impressive and will make the end product infinitely more useful for us all.