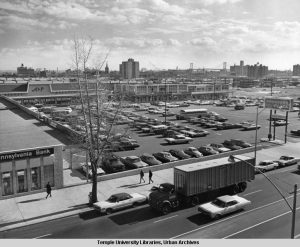 Progress Plaza is the oldest shopping center owned and controlled by African-Americans in the United States. The two-million-dollar development located in the 1500 Block of North Broad Street opened in 1968, and was a dream realized by civil rights leader Reverend Leon Howard Sullivan and members of the Zion Baptist Church in North Philadelphia. Throughout its more than 50-year history Progress Plaza remains a shining example of the power of self-help through community investment, job training, and entrepreneurship.
Reverend Leon Howard Sullivan became pastor of Zion Baptist Church located at Broad and Venango Streets in 1950. From his pulpit Sullivan organized social and economic initiatives designed to uplift the lives of African-Americans and other disadvantaged groups, including the "selective patronage" campaign which boycotted Philadelphia area businesses that followed discriminatory hiring practices; the creation of the job training program Opportunities Industrialization Center (OIC); and the 10-36 Investment Plan.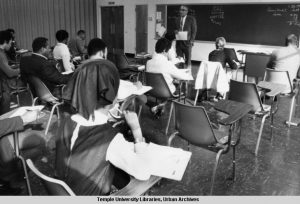 Rev. Sullivan believed that both social and economic activism must exist to address inequality in America. On Sunday, June 15, 1962, he introduced his "10-36 Plan" to his church parishioners. He asked his members to invest 10 dollars per month for 36 months. The Plan generated much support, receiving 200 membership donations in one day. The Plan would eventually grow to include more than 3,000 shareholders. The 10-36 Plan established two organizations, Zion Non-Profit Charitable Trust (ZNPCT) and Zion Investment Associates (ZIA), which became Progress Investment Associates (PIA) in 1977. With $400,000 dollars in investor's money and a negotiated deal with the Philadelphia Council for Community Development (PCCD) and the Redevelopment Authority to secure land on Broad Street, PIA received a loan from First Pennsylvania Bank to start construction of Progress Plaza.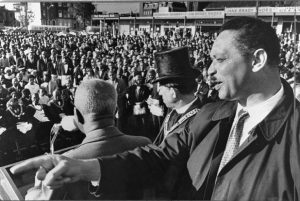 The dedication ceremony for Progress Plaza took place on October 27, 1968, and nearly 10,000 people attended the historic event. The Plaza officially opened on November 19, 1968, and leased space to nine African-American small businesses and six white owned establishments, including an A&P Supermarket. The large-scale project created numerous construction jobs for graduates from the OIC Training Program and, under a negotiated contract, the chain store tenants at the Plaza agreed to offer managerial opportunities to African American applicants. The ZNPCT also secured funding from the U. S. Department of Commerce, the U. S. Department of Labor, and the Ford Foundation to establish at Progress Plaza the Entrepreneurial Development Training Center to instruct 200 African Americans annually on how to start and manage new businesses.
The Plaza attracted many national figures. In 1968, Presidential candidate Richard M. Nixon toured the facility as part of his campaign to encourage "Black Capitalism." President Barrack Obama held a campaign rally there in 2008, and Michelle Obama visited Fresh Grocer at Progress Plaza to promote her "Let's Move" campaign in 2010.
Progress Plaza struggled to survive amid the urban unrest and mass exodus of businesses and population from blighted areas of Philadelphia to the suburbs. After the SuperFresh Market at the Plaza closed in 1999, it would be 10 years before PIA brought in Fresh Grocer to anchor a 22-million-dollar renovation and expansion of the Plaza. The Plaza was later renamed Sullivan Progress Plaza in honor of Sullivan who died in 2001.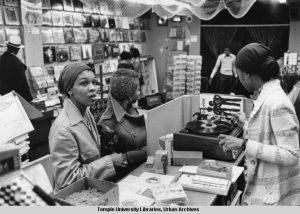 In September 2016, the Pennsylvania Historical Museum Commission (PHMC) erected a historical marker on Broad Street to acknowledge Progress Plaza and its founder Reverend Leon Howard Sullivan's contribution to this nation's history.
Progress Plaza celebrated its 50th anniversary on October 27, 2018. It remains a symbol of economic resilience and pride in the surrounding North Philadelphia community.

To learn more about Reverend Sullivan and his work worldwide, view the following finding aids found in the Special Collections Research Center.
https://library.temple.edu/finding_aids/opportunities-industrialization-centers-of-america
https://library.temple.edu/finding_aids/opportunities-industrialization-centers-international
https://library.temple.edu/finding_aids/international-council-for-equality-of-opportunity-principles

– Brenda Galloway-Wright, Associate Archivist, SCRC