Medieval Collections: Music Leaves
The Special Collections Research Center holds several leaves of medieval music, all of which have recently been digitized as part of the Philadelphia Area Consortium of Special Collections Libraries' (PACSCL) project Bibliotheca Philadelphiensis. The project is funded by the Council on Library and Information Resources (CLIR), and aims to digitize and make available online medieval manuscripts from fifteen institutions in the Philadelphia region.
All of SCRC's medieval music manuscripts are leaves, meaning single pages. Originally, these leaves would each have been one page in a larger bound volume. Practice in previous times was often to cut apart such volumes in order to sell the individual pages at higher prices–which meant that the context of the original item was lost. The practice did, however, allow libraries which might not have been able to afford an entire medieval manuscript volume to acquire an example in the form of a single page.
The fate of the remainder of the volumes from which the SCRC leaves came is unknown. One benefit to digitizing dis-bound leaves is the possibility of one day finding their former companions and digitally reuniting the dismembered book, such as the project to reconstruct the Beauvais Missal.
One leaf typical of SCRC's holdings is from a 16th century Spanish antiphonary or choir book displaying a page of music with Latin text for the Feast of the Immaculate Conception. This leaf would have been bound in a huge volume—over 30 inches tall—originally used by the choir of Jaén Cathedral in southern Spain. Antiphonaries were volumes containing the sung portions of the Divine Office and were intended to be placed in front of the choir for reference, hence their large size.
SCRC holds several antiphonary leaves, all presumed to be from Spain.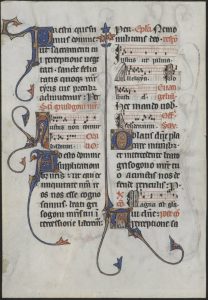 A French missal leaf from 1285 is an outlier in size at only a little over 7.5 inches tall. A missal is a liturgical book containing the texts necessary for the celebration of the Mass.
All images and descriptive metadata for manuscripts in the Bibliotheca Philadelphiensis project will be released into the public domain, easily downloadable at high resolution via University of Pennsylvania Libraries' OPenn manuscript portal. Temple is contributing nearly forty manuscripts to the project. SCRC's digitized manuscripts are also being added to Temple's Digital Collections website.
–Katy Rawdon, Coordinator of Technical Services, SCRC