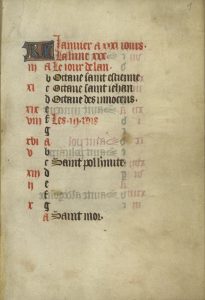 The Special Collections Research Center is fortunate to hold two Books of Hours from the fifteenth and sixteenth centuries in its collection. Looking at these two volumes side by side, visitors to the SCRC can see for themselves the transition from the manuscript tradition to the printing tradition during the early years of the printing press.
Books of Hours were generally created during the fourteenth through sixteenth centuries, and contain prayers dedicated to the Virgin Mary to be read throughout the day. These prayer books were intended to aid personal prayer rather than public worship in a church or cathedral. Books of Hours were enormously popular with the middle class of the day, and even today are the most common type of book or manuscript remaining from the medieval period. For more information on books of hours, see the tutorial on the Les Enluminures web site.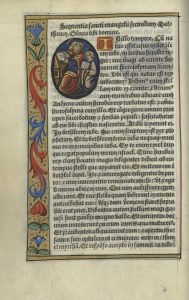 Specific content of Books of Hours varies widely. While all contain the Hours of the Virgin, some might also contain the Hours of the Cross, or certain psalms. The liturgical content of a Book of Hours is referred to as its "use," and is typically named for the region or area where that use was common, such as "Use of Rome."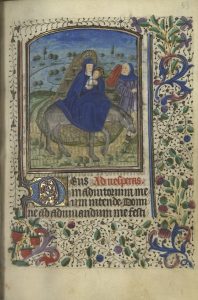 SCRC's manuscript book of hours is thought to be from Toul, France (Book of Hours: Use of Toul), and dates from between 1450 and 1499. It is written on parchment, which is made from animal skin, and it contains hand painted miniatures. As a manuscript, it is a unique item. The printed Book of Hours (Ces presentes heures sont a lusaige de Ro[m]me, or Book of Hours: Use of Rome), printed in Paris around 1534 by Germain Hardouyn, contains metalcuts hand painted by artist Jean Pichore. It is printed on vellum, which is a finer quality parchment made from the skin of a calf or other young animal. This volume is believed to be one of only three remaining copies of this edition.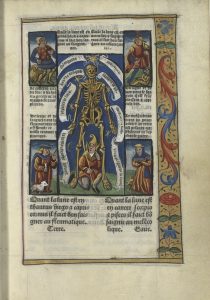 The manuscript Book of Hours was recently digitized for Bibliotheca Philadelphiensis a Philadelphia Area Consortium of Special Collections Libraries (PACSCL) project, funded by the Council on Library and Information Resources (CLIR) . The project aims to digitize and make available online medieval manuscripts from fifteen institutions in the Philadelphia area. Images and descriptive metadata will be released into the public domain and easily downloadable at high resolution via University of Pennsylvania Libraries' OPenn manuscript portal. Temple is contributing over twenty manuscripts to the project.
–Katy Rawdon, Coordinator of Technical Services, SCRC
With thanks to Katharine Chandler, Bryn Mawr College, for her assistance