In Fall 2015, the Special Collections Research Center partnered with Richard Orodenker and his Intellectual Heritage class to exhibit commonplace books created by the students alongside examples of commonplace books and related materials from the SCRC. This year, we are happy to continue our faculty and student exhibit collaborations with an exciting display of poetry and prose chapbooks created by students in Kathryn Ioanata's Honors Creative Acts class.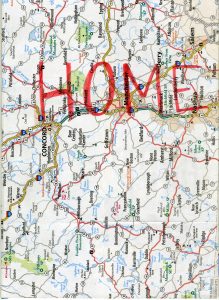 The term chapbook is used to describe the printed literature of two distinct moments in the history of printing in the West. In Europe in the early modern period, a chapbook referred to the cheaply printed and simply illustrated popular literature distributed widely and often sold by travelling booksellers called chapmen. These pamphlets contained abbreviated texts, such as fairy and folk tales, ballads, histories, or moral tracts. In the modern context, chapbooks refer to publications of shorter length, 40-50 pages or less, that are simply bound. They often contain either poetry or prose on a single theme or subject.
During the Spring 2016 semester, Professor Ioanata brought her Honors Creative Acts (ENG 926) students to the SCRC to see a selection of modern chapbooks from our various print collections, including the Contemporary Culture Collection and the Rachel Blau DuPlessis collection. Professor Ionata describes the connection between the visit and the students' final projects: "This assignment asked students to take their best writing from the semester, revise it, and arrange it artfully into a chapbook. In working on this project, rather than a simple portfolio of work typed on plain paper and stapled together, it became necessary for students to consider the book as a work of art. Using the chapbooks in the Special Collections Research Center as an example, I encouraged students to think about not only their writing itself, but its placement on the page, in the book, and the aesthetics of the book itself."
Special collections and archival materials are regularly used by students as inspiration for their own creative endeavors. Featuring these student projects in our library exhibits demonstrates the impact that the Libraries' resources and instructional outreach can have on student success. The exhibit process also creates opportunities for faculty, student, and staff collaboration. Professor Ionata and Nick Stanovick, a student in the class, both participated in the selection of materials for the exhibit, including determining which page(s) of each chapbook would be featured.
Many of the chapbooks created by the students, featuring their own prose and poetry writing, and a selection of chapbooks from the SCRC will be on display on the first floor of Paley Library in the main lobby throughout the fall semester.
–Kim Tully, Curator of Rare Books, SCRC