National History Day is a year-long educational program that attracts thousands of middle and high school students, and educators nationwide. Students compete at the local and state levels, which award participants the opportunity to present their work in a national contest held every June at the University of Maryland, College Park.
The competition was established in 1974 by Professor David Van Tassell who was on faculty in the History Department at Case Western Reserve University in Cleveland, Ohio. Its purpose is to provide invaluable experiences and opportunities for students to conduct historical research and develop critical thinking, writing, and communication skills. Student participants may submit individual or group projects in the form of a documentary, exhibit, paper, performance, or website. The program also offers professional development opportunities for educators through training, and access to varied historical resources that help them to create more robust teaching curricula.
Since 2006, the Special Collection Research Center has participated in NHD programs and has hosted class visits to the archives from Philadelphia area schools including Masterman and Constitution high schools, and LaSalle High School for Boys. Visiting students spend hours combing through the original news clippings and photographs files of Philadelphia Evening Bulletin and Philadelphia Inquirer newspapers for research projects covering a myriad of events such as the integration of Girard College, the 1967 school board riots, the MOVE bombing, and prominent Philadelphia individuals including Father Divine, Frank Rizzo, and Father Paul Washington.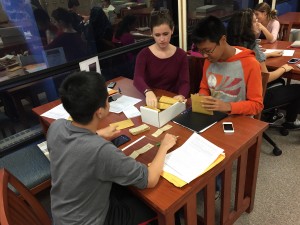 In 2015, students from Masterman placed in local and state competitions: Jenny Chan qualified for the national competition for her documentary entitled "Robert Smalls: Not so Small After All." This Fall a new group of Masterman 10th graders has been visiting the SCRC to research topics for the 2016 NHD competition theme, "Exploration, Encounter, Exchange in History."
For more information about NHD activities and programs in the Philadelphia area visit the NHD Philly website.
–Brenda Galloway-Wright, Associate Archivist