National Hispanic Heritage Month is observed each year from September 15th to October 15th. During this month, the cultures and contribution of Americans whose ancestors come from Spain, Mexico, the Caribbean, and Central and South America are celebrated. It's a good opportunity to highlight some materials from the Special Collections Research Center (SCRC) that relate to one of the many Hispanic groups that make up the fabric of this country: Puerto Ricans in Philadelphia.
Like many immigrant groups, Puerto Ricans came to the area in search of employment opportunities. Starting slowly in the late 19th century, and accelerating through the 20th century, they immigrated to Philadelphia, a thriving industrial city.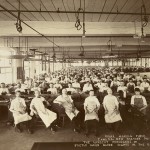 Among the many industries where they found employment was cigar manufacturing. For many years Philadelphia was one of the leading manufacturers of cigars in the United States. Consequently, some of Philadelphia's Latino communities can trace their origins to enclaves that grew up around cigar factories in North Philadelphia neighborhoods.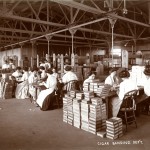 One such factory, located in the Northern Liberties neighborhood, was owned by the Theobald & Oppenheimer Cigar Company. Founded in 1860, the T & O Cigar Company was one of the largest cigar manufacturers in the city. In 1900, the company opened a new factory at 1147 North 4th Street. To memorialize this opening the company created an album, with over two dozen sepia-toned photographs of the offices, warehouse, factory floor, and workers, who hand-rolled the cigars. (The album was donated to the SCRC in 2012.)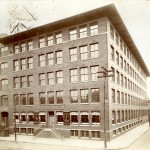 As Puerto Rican immigration to Philadelphia increased throughout the post-war years, organizations such as the Nationalities Service Center (established in 1921) began to respond to the needs of this group, as it had to previous waves of immigrants, by providing information, guidance, and services on such issues as housing, education, and employment. The programs and activities provided by the center were aimed at helping to ease the transition of living and working in a new place. A parallel goal of the center was to promote and conserve the cultural values of immigrant communities for the enrichment of American life. These efforts to aid the Puerto Rican immigrant community, as well as many other ethnic communities, are documented in the Records of the Nationalities Service Center, one of the collection in the SCRC's Urban Archives.
-Josué Hurtado, Coordinator of Public Services & Outreach