Scholars have long been interested in the cultural and socioeconomic conditions that led Jews to success in the early film industry. Jewish immigrants, and particularly those from Eastern Europe, were adept at developing film technology and skilled at writing, directing, and marketing movies. Even the moguls who created Hollywood's studio system–William Fox, Samuel Goldwyn, Louis B. Mayer, and Adolph Zukor, among others–were Jewish immigrants who rose from unprepossessing circumstances to become some of the most powerful men in the country. In books, articles, and documentaries, historians and film buffs have attempted to explain this unique aspect of film history.
What's been less well-studied, however, is the relationship between Hollywood and Philadelphia's own rich Jewish history. And I must admit that I've never given it much thought either, despite being a Philadelphia Jewish Archives collections project archivist in the Special Collections Research Center and classic film enthusiast. That changed, however, after I discovered an intriguing letter in the Robert B. Wolf and Morris Wolf Papers.
Robert and his father, Morris, were prominent members of the Philadelphia Jewish community. Morris served with the American Red Cross during World War I and was stationed in Paris. It was among his letters from France that I came across a curious passage: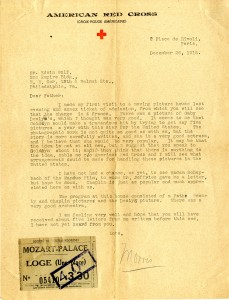 Dated December 26, 1918, the letter is addressed to Morris' father, Edwin. "Dear Father:" Morris wrote, "I made my first visit to a moving picture house last evening….There was a picture of Gaby Deslys's, which I thought was very good. It seems to me that Goldwyn would make a tremendous hit by trying to get say five pictures a year with this star for the United States." He later reminded, "I suggest that you speak to Goldwyn about it."
Call me crazy, but was Morris Wolf referring to THE Sam Goldwyn? The famous producer of dozens of classic American films? If he was, then what was the connection between the Wolf family and the Hollywood film industry?
A search of the collection produced more hints, but frustratingly few answers. I found an employment contract for First National Pictures, a film company that merged with Warner Bros. in 1928. The collection also includes a 1959 Philadelphia Inquirer article that mentions that the family starred in and produced Westerns at a Montgomery County motion picture studio (Betzwood, anyone?)
Hoping to find more information, I turned to secondary sources. To my surprise, I found that little has been written about Philadelphia Jews and their role in the national film industry. To be sure, Siegmund Lubin's career has been well documented, but there are significant gaps in the literature on this subject.
So, if anyone out there decides to tackle this topic, Morris Wolf and I will be eagerly awaiting your findings. Until then, feel free to use the Robert B. Wolf and Morris Wolf Papers and take a stab at unravelling the mystery yourself….
— Jenna Marrone, SCRC Project Archivist