The Special Collections Research Center (SCRC) recently implemented a new on-line user registration, request, and circulation tracking system. Researchers who wish to request and use materials in our reading room will need to create an SCRC Researcher Account.
Registration is easy. You can do it online from your own computer, or visit the reading room to get help from our staff. Both Temple and non-Temple affiliates are welcome to register.
Start by selecting the appropriate login button to begin the registration process. If you are a Temple affiliate, you will be able to log in using your AccessNet username and password. Non-Temple researchers will create a username and password of their choosing.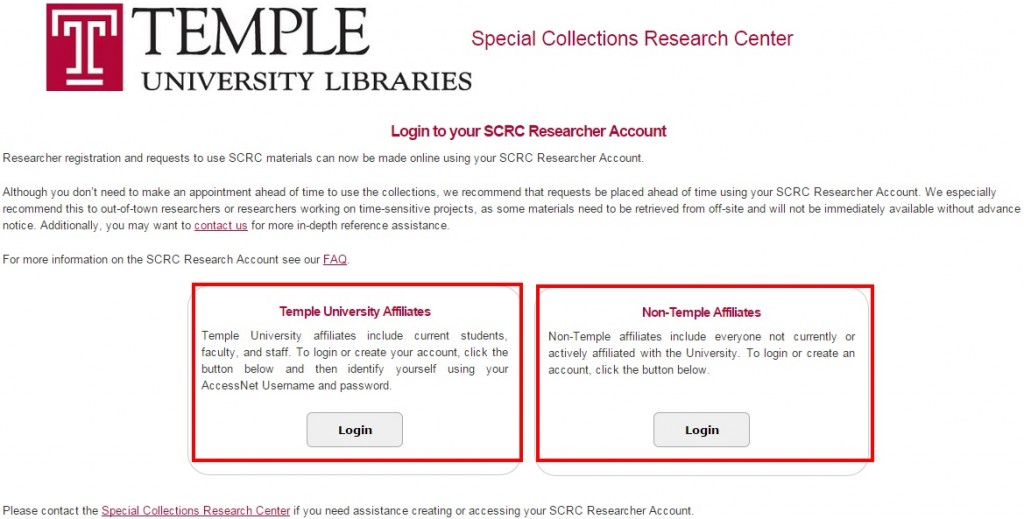 Next, click on the "First Time Users" link.

This will take you to a page that contains our reading room policies, guidelines, and other relevant information. Please read this information carefully and when you are finished, click on the button at the bottom of the page that says "First Time Users Click Here."
The next page is where you will create your account by entering your contact information and selecting a username and password.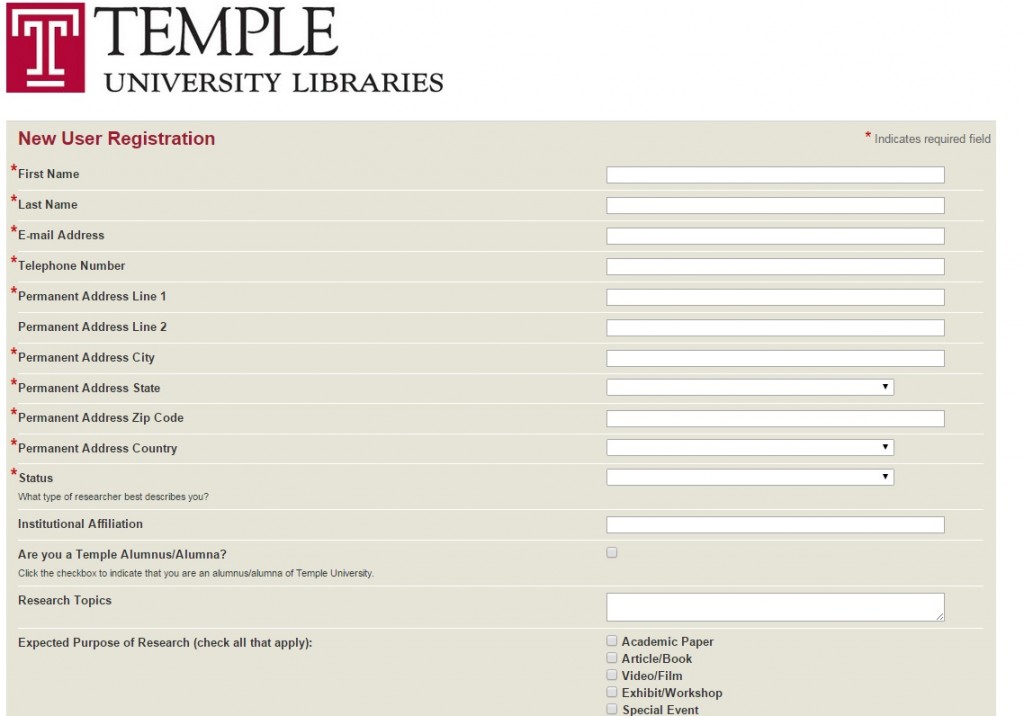 You only need to register once. The first time you visit the reading room after creating your account, you will be asked to present a valid university-issued or photo ID to verify your identity. And that's it. You're registered!
What are the Benefits of having an SCRC Researcher Account?
You can request materials directly from the library's catalog record, online finding aid, or digitized material.
Requested items will be placed on hold in the reading room so they are available when you arrive.
You can view and track the status of your requests.
You can review your request history, so you can always easily recall and cite the materials you consulted.
You can export citations from your request history
This new system will help researchers better prepare for their visits to the SCRC reading room and will allow staff to assist them more efficiently.
For more information on the SCRC Researcher Accounts, see our FAQ. For updates and more information about the SCRC's large and diverse collections follow Temple Library's History News Blog or follow us on Twitter @SCRC_Temple and Facebook.
-Josué Hurtado, Coordinator of Public Services & Outreach, SCRC
library.temple.edu/scrc