The Charles L. Blockson Afro-American Collection will honor Father Paul Washington's legacy as a leader in the vanguard of social justice at an upcoming exhibit in April that will showcase artifacts from the Paul M. Washington Papers.  Father Washington was the rector of the Episcopal Church of the Advocate at 18th and Diamond Streets in Philadelphia for twenty-five years (1962-1987) and a leader in the local community.  Location, directions and hours can be found at: http://library.temple.edu/collections/blockson.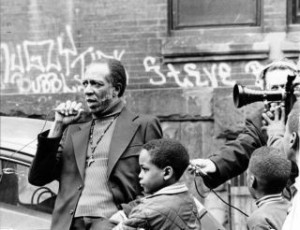 A few highlights of his involvement in social justice include: the promotion of the Black Power movement by hosting the National Black Power Convention (1968), facilitating the ordination of eleven women into the Episcopal Church (1974), and serving on the Philadelphia Special Investigation Commission of the eviction attack (bombing) by the Philadelphia Police on the MOVE household (1986).
At the core of the collection are Father Washington's extensive correspondence, sermons, and speeches covering over five decades.  In addition, photographs, news clippings, and journal articles provide information to supplement the Washington papers.
The FBI kept a file on Father Washington because of his civil rights activism and involvement in the Black Power Movement during the 1960's.  Access to the file was gained through the Freedom of Information Act.  It is another valuable source of information available in the Paul M. Washington Papers.