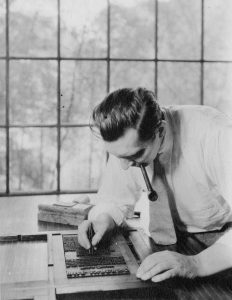 Richard Williamson Ellis, born in 1895, was a successful book designer and printer. After being introduced to and inspired by the acclaimed typographer, Bruce Rogers, Ellis went on to launch his own press in 1924, calling it the Georgian Press. Initially locating it in New York,  Ellis moved in 1927 to a renovated barn in Westport, Connecticut, where he stayed until 1933. Although some of the books carried his own imprint, Ellis printed the  majority of projects produced at the Georgian Press for publishers and private collectors. When forced to sell the Georgian Press due to financial difficulties, Ellis sold it to George Macy, founder of the Limited Editions Club.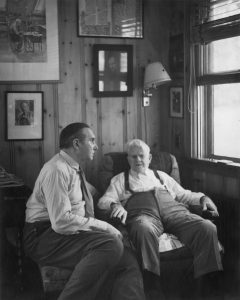 During his career, Ellis printed close to fifty books. He often collaborated with friends, most notably, the famous typographer, Frederic Goudy. Ellis often included Goudy's work in his own. Five Hundred Years of Printing from Type: A Series of Notes on Printing History, from Johann Gutenberg to Bruce Rogers, a book designed and authored by Ellis, has a section devoted to Goudy. When Goudy's press had a devastating fire in 1939, Ellis and other friends held a dinner to help him recoup his losses. Ellis's files, housed in the Special Collections Research Center, includes not just examples of Goudy's influence on Ellis, but correspondence between the two, photographs, and even keepsakes and ephemera Ellis designed for him.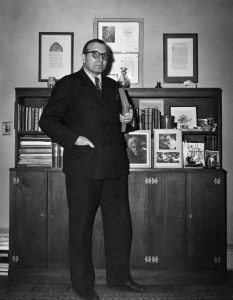 In 1935, Ellis and his wife Esther moved to Camden, New Jersey, where Ellis took a position with Haddon Craftsmen. Ellis' time at Haddon Craftsmen ended in 1942. From 1942 to 1944 he worked for Kingsport Press in Kingsport, Tennessee. In 1945, Ellis moved to New York as a consulting book printer. He was employed by Curtis Publishing Company in Philadelphia from 1947 to 1956, working on the firm's popular magazines, The Saturday Evening Post, Ladies' Home Journal, Country Gentlemen, Jack and Jill, and Holiday. After leaving Curtis, Ellis once again struck out on his own. His final work, commissioned by the Free Library of Philadelphia,  was completed while Ellis was in his eighties: Pennsylvania German Fraktur of the Free Library of Philadelphia. Publication of this book marked the end of a sixty-year career in book designing and printing. During that lengthy career, Ellis gained recognition among his New York and Philadelphia colleagues as a master of fine printing. Ellis died on October 9, 1982, in Philadelphia.
Ellis's papers and the majority of his work product and book collection are now available for research use in the SCRC.
–Holly Wilson, Project Archivist, SCRC