Just as the Centennial Exhibition of 1876 was captivating visitors in Philadelphia's Fairmount Park, Fannie and Amelia Allen began chronicling their social and intellectual pursuits in their diaries. The Allen sisters filled their diaries with short summaries of the day's events and longer, introspective passages that revealed their personal ambitions and struggles to find a mate who was both desirable and an intellectual match.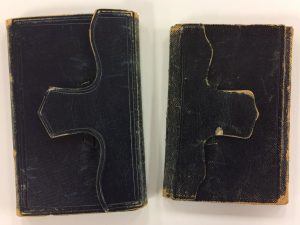 In an entry dated April 20, 1876, Fannie (age 21) writes: "I am trying to school my thoughts and make myself contented with the blessings, and not wish for others, but it is hard, and it is only now and then, when I see some others not, as I think, situated happily as I am so I feel thoroughly contented. It is hard to see others happily mated, and neither Amelia or I is so, or likely to be…". Amelia (age 22) expresses similar sentiment in a June 18, 1878 entry: "Years do not bring what I long for as every girl I suppose at my age wants – a lover whom I can respect. Times are either different now or we are hard to suit. I know not which but certain it is never have I seen the person I could care for in that light."
Already working as a teacher, Amelia frequently writes about the challenges she experienced in the Hebrew Sunday School Society and Philadelphia Public Schools. Despite her desires, Amelia never married. She dedicated her life to education and social service. In 1885, along with other like-minded Jewish women, Amelia founded the Young Women's Union, where under her tutelage adolescent girls learned domestic skills and in 1894 helped organize the women's branch of the Young Men's Hebrew Association.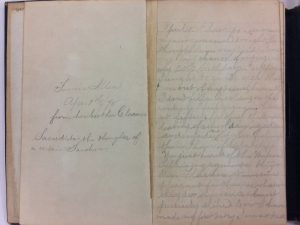 As Fannie approached her late twenties, she spent less and less time recording her thoughts in her diary, but on August 25, 1884, she (age 29), made the following revelation: "I reopen this to say though I'm not married, I hope to be. It seems too wonderful. Not only do I expect to be a physician, but I hope to wed a Mr. Moses De Ford. A man who though younger than I, is my ideal in almost every particular. We were engaged Aug. 17 but expect to keep our betrothal a secret, even from my dear Mother until after I graduate and he is a physician, then as soon as he gains enough supporters, we hope to be married partners, no fear of deficient love on his side and mine."
Nearly three years later on June 8, 1887, at the age of 32, Fannie married Moses De Ford, eight years her junior, but not before graduating from the Women's Medical College of Pennsylvania. Fannie practiced medicine alongside her husband for over 30 years in the Kensington neighborhood, providing medical care to the immigrant population that worked in the textile mills and shipyards nearby, and advocated for better hygiene and sanitation for the working poor.
To learn more or request access to the diaries of Fannie Allen and Amelia J. Allen in the Special Collections Research Center, view the online finding aids here:
https://library.temple.edu/scrc/fannie-allen-diary
https://library.temple.edu/scrc/amelia-j-allen-diary 
–Jessica M. Lydon, Associate Archivist, SCRC