The over seven hundred artists' books housed in the Libraries' Special Collections Research Center are a rich resource for Temple faculty and students in a variety of art and humanities disciplines. Artists' books often defy standard descriptions but are broadly described as any work of original art created in book format or which takes the book as its primary mode of expression. Students, many from the Tyler School of Art, studying topics such as book structures, narrative, 2D foundation principles, and book arts in general, have visited the SCRC reading room to explore and be inspired by examples from the SCRC's collection.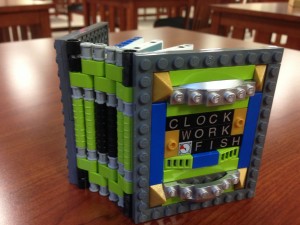 In the first weeks of this fall semester, there are already three different courses, two from the Graphic and Interactive Design program in Tyler and one from the English department, whose instructors have integrated the use of SCRC's artists' books into their syllabuses. Collecting artists' books and making them available to users serves our mission to collect, preserve, and make accessible unique materials to enrich teaching and learning at Temple.
The artists' books collection, which includes titles from the former library at Tyler School of Art, has grown exponentially over the last few years with several new titles added annually. The following artists' books have recently been added to the SCRC's collections, and we invite users to visit them.
The artists' book shown above demonstrates the often whimsical quality of the book arts. Created by Guy Himber, Clock Work Fish is made entirely from LEGOs and consists of illustrations printed on vinyl pages. It is fully functional and consists of over 200 LEGO parts. More information and images can be found in the Libraries' catalog record.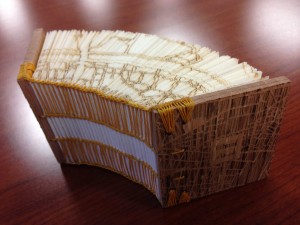 Another recent acquisition, this artists' book by an Egyptian artist, Islam Mahmoud Mohamed Aly, is entitled Echoes. It is a finely wrought piece of craftsmanship, combining a traditional Coptic binding with the modern technology of laser engraved image and laser etched wooden boards. Inspired by the chants of protestors during the Egyptian Spring of 2011, the Arabic words for Bread, Freedom, and Social Justice are repeated throughout the design. More information and images can be found in the Libraries' catalog record.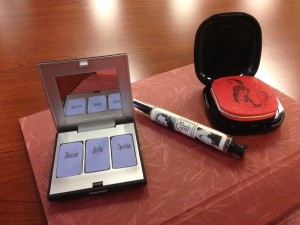 Unlike the first two examples which fuse unusual materials and illustrative techniques with the familiar codex structure, this artists' book by Alicia Bailey entitled Cosmeceutical Collection, uses non-traditional "book" structures in the form of cosmetic containers, including an eyeshadow case, a mascara wand, and a compact case, to house her three miniature books. Bailey writes of the work: "…given my mistrust of both consumerism and culturally dictated notions of female beauty, I am also repulsed by these shrines to artificial beauty." This title is so new to the collection that it's not yet cataloged, but will be available soon.
Kimberly Tully
Curator of Rare Books
Special Collections Research Center