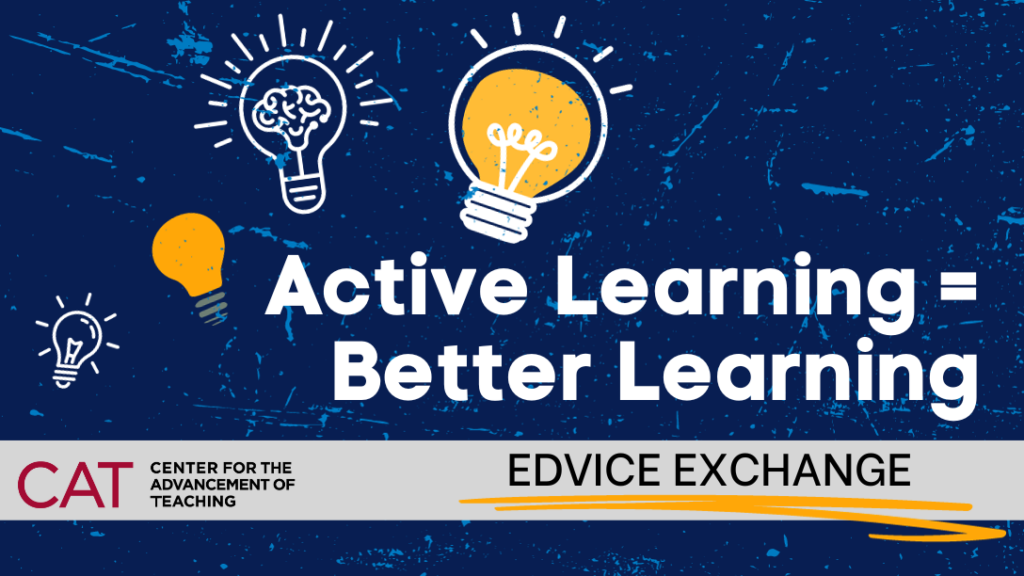 by Sheryl L. Love and Jeff Rients
In the previous three installments of this series, we've proposed a variety of active learning techniques that you can implement in your classroom. A common faculty response to some of the active learning techniques we've outlined is that they do not scale up, i.e. the claim is that these strategies may function admirably in a typical classroom, but they don't work in a lecture hall. In this post we will be sharing some active learning techniques with proven track records in large classes as well as discussing the mental disposition needed for faculty to take the leap of faith into active learning.
Techniques
Each of the following techniques are designed to encourage student engagement with the lecture by providing an additional way of interacting with the material. Used repeatedly, they also help build the sense of community sometimes missing in lecture-based learning environments. This sense of community directly contributes to student motivation to succeed.
Neighbor Check-In
Ask students to talk with their neighbors to see if they have the same/correct understanding of a new concept. Working in a small group helps students to see that they are not alone in having questions and misunderstandings. After a few minutes of discussion, ask them to share any unresolved questions that the group still has.
Note Comparison
Invite students to pair up and take a few minutes to compare the notes they've taken with another student nearby. Pairs will be able to fill in gaps in each other's notes. Invite students to share any point of disagreement, giving you the opportunity to clarify misunderstandings. Done regularly, this activity also encourages note-taking.
Interactive Polling
After a lecture segment use a polling tool like Poll Everywhere to ask students a multiple choice question. Then give the students an opportunity to talk in small groups, sharing their answers and justifying it to the other students. Without revealing the answer, repeat the poll. You will see that the students with the correct answer will have convinced many of their peers. Finish by explaining the answer for the benefit of those who still got it wrong.
Pass the Answer
Students write the answer to a prompt on an index card. They then swap answers with a nearby colleague. Turn and repeat swapping with someone else. Then swap one more time with someone else nearby. The instructor then calls on students to read the answer they are holding. This makes it easier for students to speak out in a large lecture hall, because they are offering someone else's answer rather than their own. This also works well when soliciting student questions.
Two-Stage Quiz
Have students complete a quiz or solve a problem individually. Then, ask students to compare their answers with other students in small groups, come to a consensus on their answer(s)/solution(s) and commit to a final answer using Poll Everywhere, IF/AT scratch sheets [samples available at the CAT], index cards, etc. This activity works best if group responses can be reviewed during the class period.
For more ideas on active learning techniques, try our 3-page handout on Active Learning in Large Classrooms, which is split between simple, easy-to-implement strategies and those techniques that require more time and preparation.
Disposition
In addition to having the right technique at your disposal, it is also important to approach the active learning lecture hall with the right frame of mind. Lecturers often experience a sense of loss of control the first time they ask students to perform an activity. The movement of students and the general hubbub as they work on a task makes the normally orderly lecture hall feel like a chaotic place. We argue that, although the feeling is quite real, the control was always at least partially an illusion. 
In a standard lecture environment student silence can be interpreted as successful teaching. In fact, since a lecture is a one-way act of communication, there's no easy way to determine whether the students are learning. At least, not in the moment. The following cartoon nicely illustrates the problem.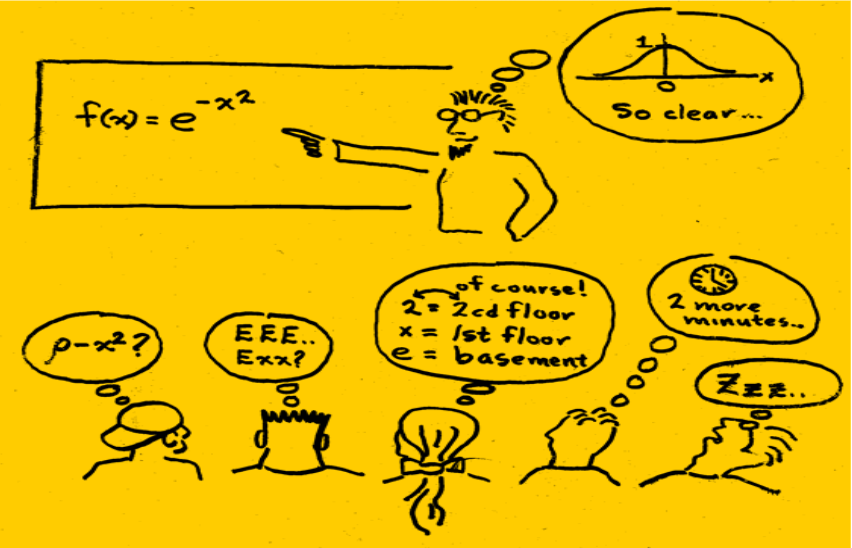 An active learning lecturer welcomes the seeming chaos of an energetic classroom engaging in an activity as an opportunity to directly monitor student learning. By stepping away from the podium and patrolling the room, the instructor can view student learning while it is still forming and intervene when needed. Thus, the learning activity is not just a break from lecturing and an opportunity to re-establish waning student attention, it is a chance to informally assess students before we find out what they have learned via high stakes assessments such as exams and papers.
In the next installment of this series, online teaching expert Emtinan Alqurashi will share her thoughts on implementing active learning in both synchronous and asynchronous learning environments. In the meantime, if you want to discuss how to build more active learning into your Temple courses, please email the Center for the Advancement of Teaching or schedule an appointment for a one-on-one consultation with one of our pedagogy specialists.
Sheryl L. Love is Associate Professor of Instruction in Temple University's Department of Biology, where she serves as the Lab Coordinator for Biology 1011 (General Biology I) and Biology 1012 (General Biology II) for non-majors.
Jeff Rients is Associate Director of Teaching and Learning Innovation at Temple's Center for the Advancement of Teaching and Adjunct Associate Professor for Temple's College of Education and Human Development.