Cliff Rouder, Ed.D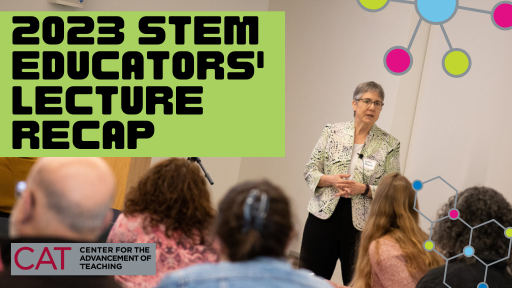 The CAT's STEM Educators' Lecture, held on March 28, featured guest speaker Dr. Cynthia Bauerle (they/them), who engaged faculty from Temple and other regional institutions in this year's topic, "Utilizing an Ethical Reasoning Framework to Create More Equitable STEM Education." Dr. Bauerle is a Professor of Biology at James Madison University, formerly holding positions as Dean of the College of Science and Mathematics and Vice Provost for Faculty. Dr. Bauerle is a molecular biologist by training, publishing widely in both scientific and science education journals. Their career interweaves scientific expertise, passion for inclusive teaching, and a commitment to improving STEM education nationally.
In Dr. Bauerle's interactive presentation, they introduced the ethical reasoning instrument (ERI), a tool that uses a framework developed collaboratively with colleagues Dr. Laura Bottomley from North Carolina State University, Dr. Carrie Hall from the National Science Foundation, and Dr. Lisette Torrres-Gerald from TERC (originally standing for Technical Education Research Centers, but now just known as TERC), a private organization that supports STEM projects and research.
The ERI guides STEM faculty through a series of questions related to eight dimensions of ethical reasoning. Faculty re-center ethical reasoning by using the instrument as they think about the design of their courses, i.e., their pedagogy, classroom activities, and assessments. Important to note is that these questions ask us to consider more than just bringing in course content that addresses ethical issues. Rather, the ERI enables us to reflect on how our course design can be more equitable. To that end, Dr. Bauerle reminded us that this reflective process also requires us to consider the various identities we bring into the classroom, as well as those of the students, with the belief that diverse identities provide richness. It also enables us to explore more intentionally the biases we may hold so that they don't enter the classroom.
Users of the ERI should be able to incorporate at least some of the eight characteristics of ethical reasoning (listed below) into their STEM courses. Under each characteristic are sub-questions we can consider in our course design. For example:
Fairness – How can I (we) act justly, equitably, and balance legitimate interests?
Here, the sub-questions we can consider are if our courses provide opportunities for students to learn about inequities in science or the consequences of ignoring inequities in the practice of science. We can also consider if our course includes principles of Universal Design for Learning, including access and accommodation.
The other seven dimensions have useful sub-questions as well. Click on each one to see these sub-questions.
Faculty can also use the ERI to evaluate the success of their course implementation. The instrument provides scaffolding for assessment and activity development, as well as examples of each of eight key characteristics of ethical reasoning.
Dr. Bauerle explained that the ERI is being implemented in a variety of STEM courses. Because the ERI is in the beta phase, the research team encourages participants to share any feedback with them regarding its implementation and usefulness. An important reminder was that the ERI is not just a valuable tool for STEM courses–ethical issues that encompass equity are valuable for any course!
If you'd like to keep the ERI discussion going, post a comment on our Faculty Teaching Commons. What are your thoughts about–and experiences with–incorporating one or more of these ethical dimensions? Inquiring minds want to know! As always, if you'd like assistance planning your courses to incorporate elements of the ERI, our CAT staff is ready to help. Make a consultation appointment or email a CAT staff member directly.