Dana Dawson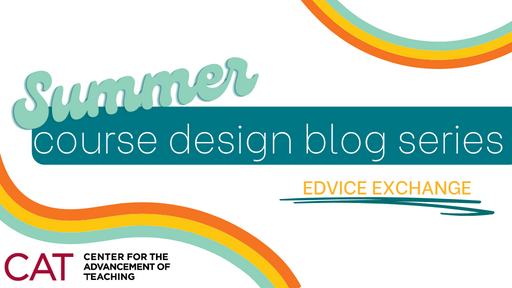 You've written the learning goals for your course and are now ready to design learning assessments that align with your course goals, offer opportunities for formative feedback and are educative. Well-designed learning assessments will:
Provide evidence that students have met your learning goals;
Support students in progressing toward accomplishing your learning goals;
Allow students to assess their learning process and progress; and
Help you discern whether your learning materials and activities are effective.
Learning assessments are often described as formative or summative. Formative assessments are designed to give students feedback they can use for future work and are most commonly low stakes and assigned early and often in a unit or course. Summative assessments provide a snapshot of a student's learning at a point in time (at the end of a unit or course, for example). Another way to frame this is using Dee Fink's description of Auditive versus Educative Assessments. Auditive assessments are backward looking and are used to determine whether students "got it." Educative assessments have clear criteria and standards (through the use of rubrics, for example), help us ascertain whether students are ready for a future activity, and provide opportunities for high quality feedback from the instructor and self-assessment on behalf of the student.
Here are some things to keep in mind as you design your assessments.
Start with your goals
You have determined what you want students to be able to do or to know by the end of your course and articulated those ambitions as learning goals. Now you must determine the activity or product that would provide the best evidence as to whether your students have reached a particular goal? What can your students do or create to demonstrate they have gained facility with the content or skills the course promises to deliver?
The previous post in this series outlined the six categories of goals that constitute Fink's Taxonomy of Significant Learning (see the table below). The type of assessment you select will depend on the nature of the learning goal it is designed to address. For example, while a multiple choice quiz may be a good option for assessing foundational knowledge, it may not be a good fit for integration or caring goals. Here are some suggestions for types of assessments or assessment strategies that align with the dimensions of Fink's Taxonomy of Learning. Note that many of the suggestions listed below will address more than one dimension. For example, a carefully constructed research poster assignment might assess how students define key concepts or methods (foundational knowledge), use communication skills (application), articulate the significance of the project (caring), consider their audience in designing the poster (human dimension) and pull together research skills taught and practiced throughout the semester into a coherent whole (integration).
Elements of Fink's Taxonomy of Significant Learning
Examples of Assessments
Foundational Knowledge
What key information is important for students to understand in this course or in the future?
Multiple choice quiz, guided notes, classroom polling, quotation summaries
ApplicationWhat kinds of thinking are important for students to learn? What important skills do they need to gain?
Briefing paper, dyadic essay, lab report, annotated bibliography, problem-based learning
IntegrationWhat connections (similarities and interactions) should students recognize and make in this course and with other courses or areas of learning? Or within their own personal lives?
Reading prompts, learning portfolio, case study, research poster
Human DimensionWhat could or should students learn about themselves and others?
Asset-mapping, role play, test-taking teams, student peer review, dyadic interviews
CaringWhat changes/values/passions do you hope your students will adopt?
Positive projects, contemporary issues journal, "what, so what, now what" journal, class participation, critiques, Wikipedia assignment
Learning How to LearnWhat would you like for your students to learn about how to be a good student, learn in this subject, and become self-directed learners, and develop skills for lifelong learning?
Ask students to prioritize areas of feedback, advance organizers, self-reflection assignments, two-stage exams
Use this worksheet to reflect on assessments that align with your goals and whether your goals and assessments address all six elements of the Taxonomy of Significant Learning.
Don't forget those situational factors
Assessments designed for first-semester undergraduates ought to differ from those assigned to graduate students. When designing your assessments, you will need to put on your own Human Dimension hat and transport yourself back into the shoes of a learner taking their first lab, completing their BFA exit portfolio, doing rotations, and so forth. You may need to design assessments that also align with department, program or accreditor goals and assessment efforts. Factors such as the number of students in your section and instructional modality will influence assessment decisions.
Use assessment to support student learning
If assessments are infrequent or completed only at the end of a unit or course, they will not give students an opportunity to practice prior to summative assessments or to use your feedback. Remember that learning assessments do not have to be graded. There may be times that the primary purpose of an assessment activity is to help students gauge their own understanding or for you to get a big-picture sense of whether students are following you. In-class or low stakes Learning Assessment Techniques can be used throughout the semester to give students immediate feedback. Consider whether there are opportunities to build revision into your assignment design.
Assessments give you information – use it!
A classroom polling activity may tell you that your lecture on a topic didn't land with a significant number of your students and that you need to spend a bit more time on it in the next session. A series of ineffectual peer reviews or critiques may tell you that you need to provide more guidance on how to conduct peer reviews or critiques. Learning assessments provide feedback on our students' progress and on our own work as educators. Take time to reflect on what assessment results tell you not only about your students' learning but also about your instructional strategies.
When aligned to your learning goals and designed to accommodate situational factors, address the six elements of Fink's Taxonomy and guide future effort, your assessments will be an essential component of successful course delivery.
For support in designing learning assessments, don't hesitate to book a consultation with a CAT specialist.
Dana Dawson is Associate Director of Temple's Center for the Advancement of Teaching.