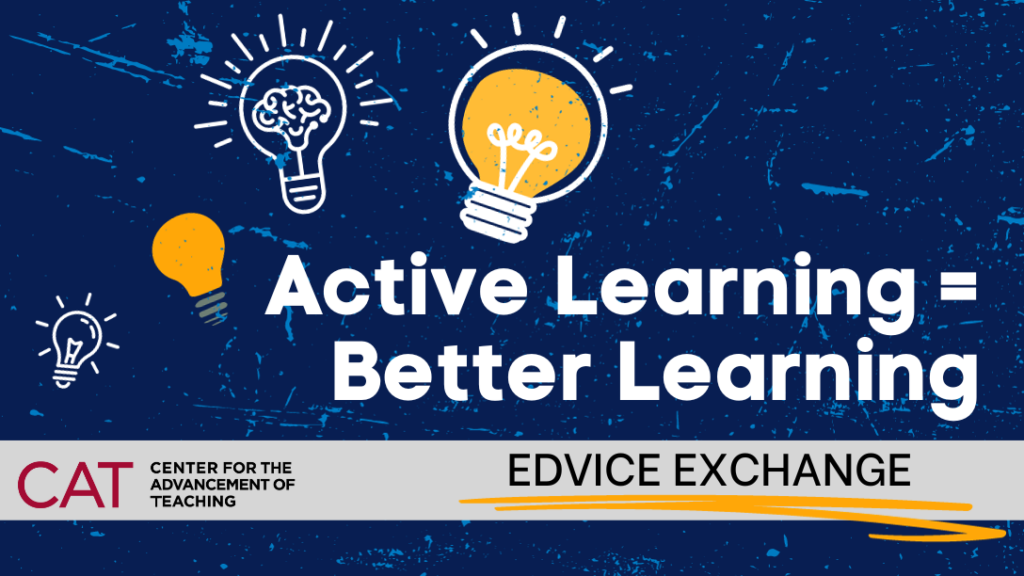 by Emtinan Alqurashi, Ed. D
In our ongoing series, "Another Look at Active Learning," we've explored various active learning techniques. While active learning is an effective approach in all types of courses, its application can differ in online environments. This is especially true for asynchronous courses where students lack real-time contact with the instructor and their peers. So it becomes crucial to establish opportunities for active engagement with the instructor and fellow students in asynchronous settings. In this blog post, we delve into activities that can effectively engage students in both synchronous and asynchronous online learning settings.
Synchronous active learning strategies
Synchronous activities take place in real-time, often using platforms like Zoom. They often mirror the types of activities that we use in in-person settings, with some adjustments to help them work in this modality.
Examples
Strategy #1: Jigsaw Online
How it works:
Step 1: Identify a reading or learning unit that can be divided into parts.
Step 2: Form small groups and have each group focus on one of the parts. This can be completed prior to class, or by reading independently during class time.
Step 3: In class, form breakout rooms for each group to allow them to discuss their part with the goal of being able to explain it to other classmates. They should be working together to identify key concepts and clarify any gaps in understanding. Then, have them return to the main room.
Step 4: Form new groups in the breakout room so that each new group has one member for each of the different parts. I recommend asking students to add their Step 3 breakout room number next to their names to make it easier for instructors to reform the groups. Each group member now explains their part to the other members in the new group.
Step 5: Optional: Provide the new groups with a problem to solve that requires the integration of the different parts.
Strategy #2: Rotating Stations
How it works:
Step 1: Define the learning unit and craft a set of open-ended discussion questions before class.
Step 2: Create shareable collaborative documents (e.g. Google Docs) for each question, and change the sharing setting to enable "edit access for anyone with a link". Provide all the links on a single Google Doc, using it as the central hub.
Step 3: In class, establish breakout rooms for group discussions. Have students record their answers in the documents and rotate every 10 minutes through the questions.
Step 4: After they've cycled through all stations (i.e. google docs), bring them back to the main room for discussion through chat, raised hands, or taking turns to speak.
Note: Monitor document activity to support groups if needed during the activity.
Strategy #3: Digital Sticky Notes
Sticky notes are great for getting lots of student ideas quickly. You can use them for brainstorming together in real time, making mind maps, and helping students sort out concepts to boost their critical thinking.
Digital sticky notes work just like the real ones, they can be added by everyone, and you can keep coming back to them. Padlet is an easy digital sticky note tool to use, great for sharing and collaborative editing. 
Strategy #4: Live Polling
Uses for live polling:
Assess Learning: Use multiple-choice or open-ended polls to assess comprehension.
Build Community: Foster a sense of belonging using image or word cloud polls.
Gather Feedback: Collect course and teaching feedback.
Facilitate Peer Learning: Encourage discussions and decision-making through polls.
Use Poll Everywhere for both in-person and online teaching; it integrates into presentations with various question types. Kahoot, another polling tool, enables creating multiple-choice questions for instant feedback and leaderboards. Employ Kahoot games for knowledge reinforcement, review, or as individual challenges for asynchronous learning with set deadlines.
Asynchronous active learning strategies
Asynchronous activities occur at students' own pace and on their schedule. Designed well, they can be successful at actively engaging students with the content and with others in the class.
Examples
Strategy #1: Collaborative Writing
Consider using collaborative writing tools like Google Docs, or Microsoft Word, when assigning group writing projects where students can work together asynchronously. These tools are very useful because they allow everyone to contribute and edit the same documents. In addition, they have features like tracking changes and adding comments, which make it easy for everyone to give feedback and improve the work together.
Strategy #2: Peer Review
Leverage peer review for student connections and enhanced learning using Canvas Peer Review in asynchronous classes, and keep the following considerations in mind:
Define expectations: Provide precise instructions for the criteria students should consider in their reviews.
Offer guidance: Provide students with guiding questions, rubrics, or worksheets to assist them in their peer reviews. This can aid in structured and focused evaluations.
Encourage author questions: Encourage students to include initial questions for their peer reviewers to guide them on what aspects the author would like them to focus on.
Strategy #3: Gamification, like Escape Games
Using gamification, like online escape games, is an exciting and effective approach to foster active learning, critical thinking, and problem-solving skills among students. To create and manage such games, select a suitable tool (e.g., Genially), and design the game with a storyline, puzzles, and challenges aligned with the learning objectives. Provide clear instructions, establish support and feedback channels, and encourage engagement through debriefing discussions to review solutions and outcomes. It's worth noting that escape games can be utilized synchronously where you give students a link to the game and then return to debrief.
Strategy # 4: Online Discussions
Using tools like VoiceThread for online discussions is excellent for engaging students, especially in asynchronous courses. VoiceThread is an interactive collaboration tool where you can share materials and multimedia, and students can add text, audio, or video comments directly. It facilitates rich discussions and allows students to interact directly with shared material and also build digital presentations with comments for discussion.
Strategy #5: Generative AI
Generative AI, like ChatGPT, offers exciting opportunities for engaging students in active learning. Refer to the CAT AI guide on how to incorporate these activities in our EDvice Exchange blog post A Survival Guide to AI and Teaching pt.4: Make AI Your Friend.
If you're interested in trying these techniques, we encourage you to reach out to the CAT. In the next post of this blog series, we will focus on overcoming challenges in active learning.
Emtinan Alqurashi is Assistant Director of Online and Digital Learning at Temple's Center for the Advancement of Teaching.