Stephanie Laggini Fiore, Ph.D.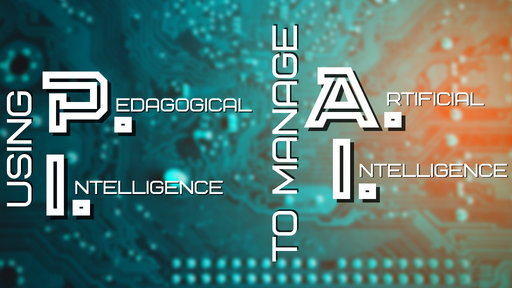 We are all teaching in a new reality created by powerful text-generation tools like ChatGPT that allow us and our students to compose text on demand. Lori Salem, Assistant Vice Provost and Director of the Student Success Center, and I wrote an initial post about this last semester. As instructors, we will all need to think hard about how to manage and harness the power of this tool. I use the words "manage" and "harness" intentionally here, as we cannot pretend that we can entirely ban these tools nor can we rely on anti-AI detectors (that I can assure you will not be foolproof). In addition, we have a responsibility as educators to guide our students in the ethical and effective use of AI tools that will be available to them beyond the university in their workplaces and in their daily lives. There is no body of research (yet) that can guide us in using AI for teaching, so we are all feeling our way along by reading, debating, and experimenting with some best ways forward.
While the teams at the CAT and the Student Success Center are working towards developing a set of guiding principles for managing AI in our classrooms, the way to start right now is by considering how PI can help us manage AI. What is this magical PI, you say? Does it have something to do with Tom Selleck (if you're my age, you get that joke)? Is it a fancy new counter-AI robot that will solve all of our problems? No, my dear colleagues, it is simply an invitation to examine the fundamentals, the Pedagogical Intelligence that should be the first stop on the road to a set of principles for thinking about teaching in the presence of Artificial Intelligence. In the CAT's new spring series, Using PI to Manage AI, we will be exploring, both on our blog and on our CAT Tips series on social media, these pedagogical fundamentals as a way to start this conversation. The topics we will explore on our EdVice Exchange blog are all evidence-based ways of designing student assessments of learning in ways that will encourage academic honesty, motivation, and a desire to learn. We will follow each blog post with a CAT Tips video on social media outlining a few concrete ways to implement these assessment strategies in your classes. If you have not recently done a deep dive into evaluating how useful your assessments are for evaluating learning–and also for furthering learning by engaging students in meaningful learning tasks–now is the time!
We will start the series by exploring how to design assessments that are meaningful for students, allowing them to connect to what we are teaching in ways that help them see the value of engaging in the work. The following blog post in the series will discuss how to use learning assessments to build student self-efficacy in ways that help them to be able to do the work well and to feel confident in what they are learning. Then we will unpack iterative work that provides feedback and allows for revision along the way. We will subsequently examine summative assessments and strategies for supporting students to think reflectively about how they prepare for these usually higher-stakes assessments. Finally, we will complete the series by introducing some educational technology tools that can assist us in implementing better assessment protocols.
It will be important to approach this new challenge as an opportunity. It will necessarily push all of us to think deeply about how we are teaching and how we are assessing learning, and in so doing, lead us to more effective practices. We may surprise ourselves by discovering that AI itself can be useful in exciting new ways for learning. In the meantime, know that we at the CAT are on this journey with you, and will be working to support you as you support our students' learning.
Note: If you are intentionally using ChatGPT to teach in your classrooms this semester, please email us at cat@temple.edu and tell us about it. Consider also that you can engage in the Scholarship of Teaching and Learning (SoTL) by designing a classroom study to evaluate the impact of ChatGPT on student learning. If you want to learn how to design a study related to your use of ChatGPT in the classroom, contact Benjamin Brock at bbrock@temple.edu for assistance.
Follow our Using PI to Manage AI blog series at EdVice Exchange
Follow our companion Using PI to Manage AI CAT Tips Video Series.
Stephanie Laggini Fiore, Ph.D., is Associate Vice Provost and Senior Director of Temple's Center for the Advancement of Teaching.