Dana Dawson, Ph.D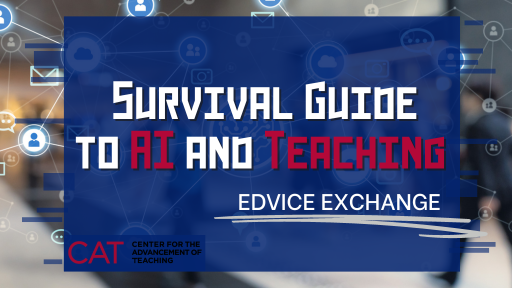 Generative AI tools like ChatGPT are already being used by students, and are likely to become ubiquitous in the workplace of the future, so ignoring them is not the ideal solution. We need to be actively thinking about how students are achieving the learning goals of our courses in light of their possible use of these tools, but also whether our courses prepare them for future careers in which they may be using AI tools regularly.
That being said, as with any other technology, we and our students need to approach the use of these tools critically. With regard to your teaching responsibilities, we see three approaches to the use of AI:
Integrate the use of generative AI into your course activities and assessments;
Integrate critical examination of generative AI tools themselves into your course activities and assessments; and
Work around AI by designing assignments that are AI-resistant
If you're not sure where to begin in deciding which of these approaches to take, we offer you this decision tree as a helpful tool. Determining how you will address generative AI in your classes will require you to reflect on your level of familiarity with the tools, take steps to become more familiar with them if you haven't already, examine the learning goals for your course and determine whether AI can be useful in helping students to reach these goals, and consider your readiness to carefully vet content students create with the help of or in response to the effects of generative AI. Finally, whatever your decision, you'll need to speak with your students about the use of AI in your course.
In upcoming blog posts in this series, we will address strategies for the three approaches listed above as well as how to speak with your students about your approach. Note that you don't have to pick just one of these approaches. We urge instructors to consider a mixed approach to incorporating AI in the classroom. In some cases, the use or analysis of content created by generative AI may help your students achieve a particular learning outcome and in other cases, it may be counterproductive. Revisit this decision tree not only at the outset of your class planning, but as you consider activities and assessments throughout the semester. Then articulate your decision to your students clearly on your syllabus. We have made syllabus guidance available to help you craft a coherent syllabus statement regarding use of AI in your courses.
Follow this blog series for continuing guidance on how to think about AI in your classes, and remember that you can make an appointment with a CAT developer to discuss your decision.
Dana Dawson is Associate Director of Teaching and Learning at Temple's Center for the Advancement of Learning. Decision Tree graphic by the Center's Graphic and Design Specialist, Emily Barber.