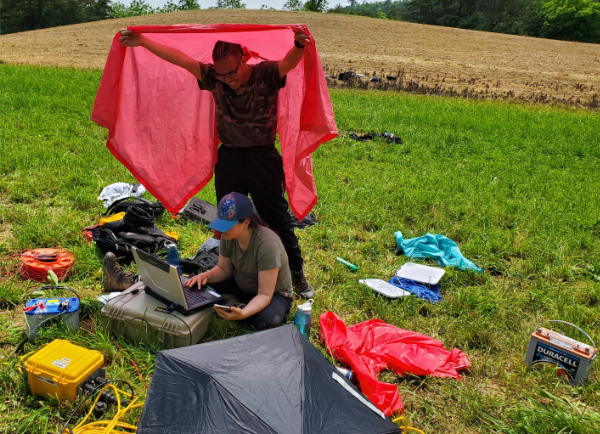 "Broadening Participation and Engagement of Underrepresented Minorities in the Geosciences Through a Near Surface Geophysics Field Experience."
This is a title of the a poster Dr. Kristina Keating will in December, 2019 at the
AGU meeting
in San Francisco. The talk will present what we have learned in year two of our NSF grant which funds a summer field experience at the
Shale Hills Critical Zone Observator
y managed by Penn State.
Students with an interest in STEM but no prior geophysical experience spent two weeks collecting and analyzing data at the Garner Run subcatchment. In addition to learning about ground-penetrating radar, electrical resistivity tomography, seismic refraction tomography, and basic surveying skills, students learned such vital geophysical truths as lugging around car batteries to power geophysical equipment is a pain, and even the newest ruggedized computer laptops screens are challenging to read in direct sunlight.
The abstract concludes that, "Analyses of pre- and post- student surveys show that the students reported statistically significant gains in geoscience knowledge, professional skills, and known psychosocial predictors of persistence in science (e.g., science self-efficacy). Some students who participated in the field experience reported increased interest in geoscience  majors or careers."
Best of all, they had a lot of fun doing it!