Laura Biesiadecki
(Pod)Casting Your Net
I love a good podcast, I really do. And though it's safe to say that the proverbial podcast pond is amply stocked with shows about everything and anything, there are precious few series about DH. The Digital Humanities Exploratorium Podcast ran for two seasons, but stopped airing new content in 2013, and the DH podcast from the University of Oxford hasn't consistently released episodes since Spring 2016.
Considering my relative newness to the field of DH, and my position as a graduate fellow in the Scholars Studio at Temple, I wanted to take advantage of an opportunity to learn more about my new colleagues, their digital projects, and the many types of digital methods now at my disposal.
Thus, the Digital Humanities Podcast (or DigHumPod) was born.
Recording in Progress
For the first episode, I sat down with Jasmine Clark (Digital Scholarship Librarian), Jordan Hample (Academic Information Technology and Support Technician), and Alex Wermer-Colan (Digital Humanities Post-Doctoral Fellow) to talk about the Virtual Blockson, a recreation of the Charles L. Blockson Afro-American Collection in virtual reality.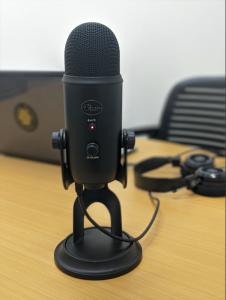 Tech was pretty standard — I used a Blue Yeti omnidirectional microphone to record, and Adobe Audition to edit post-production. Should be easy, right?
Unfortunately, the loudest person in the room (it was me!) overwhelmed the other voices in the recording, making them impossible to hear. When I boosted the volume during playback, I could hear Jasmine, Jordan, and Alex, but my voice was too loud. Like… way too loud.
To avoid damaging any cochlea, I copied the single recorded audio file into the "Multitrack" window on Audition and spent several hours cutting it into four different tracks, one for each speaker. From there, I was able to bump up the volume on tracks for my guests, and lower the volume for me.
Cut That Out!
Once the volume issue had been resolved, it was time to make cuts. Wanting to give the conversation room to flow and develop, and hoping to touch on as many facets of the project as possible, I spent more than an hour recording with Jasmine, Jordan, and Alex. The final 65-minute product was great, a lot of fun, and included such hilarious outtakes as the mic falling over and members of the construction crew coming in to check whether the baseboards had been painted.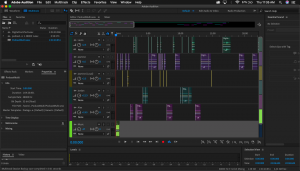 But if I was going to release something people would actually listen to, I'd have to lose about forty minutes of content. It was easy enough to decide which talking points to prioritize and which to cut, but it was incredibly difficult and time-consuming to cobble together the remaining sound bites into something cohesive. The final 22-minute episode flows well enough, but if you listen closely, you can tell which transitions are natural and which are edited.
Season 1, Episode 2
Since recording, editing, and (finally) releasing the first episode of the DigHumPod, I've shifted to what will hopefully be a more streamlined process.
For our second episode, which will feature Scholars Studio Graduate Fellows Nikki Lemire Garlic (PhD, Communications) and Huilin Zhu (PhD, Economics), I'll be interviewing my guests separately, positioning the microphone directly in front of them to get the highest possible audio quality. After the interviews are over, I'll sit down in front of the mic to re-record the questions, arrange the different tracks, and then merge them into one .wav file that can be uploaded to SoundCloud.
Through the last weeks of this semester, I'll continue to maintain the pod's website, SoundCloud and Twitter accounts, and start scheduling guests for episodes to be recorded when we get back to campus in 2020.
Listen to our first episode to learn more about the Virtual Blockson, and follow us on Twitter for updates!