By Hocheol Yang
This post will provide a guide to two steps for utilizing Google Forms mentioned from the previous post. The following examples and tutorials in this post assume you already have two different measures separately on Google Forms and want to combine them into one survey for a fresh new study.
1. Duplicating survey files that you already have on Google Drive's Forms documents
2. Combining these files into a single survey.
1. Duplicating survey files that you need
Forms that you already created and organized of Google Forms are part of your survey database. We just need to know how to use them efficiently. On Google Forms, it is unfortunate that you cannot duplicate the entire folder structures with web based interface, but if you installed Google Drive Desktop on your computer you could simply copy the whole folder with surveys to another folder. On a web interface, you should duplicate surveys one by one. This is not a problem when you need to use small number of measures. But, if you have several surveys to copy, you could try a third party app called Drive Migrator for now.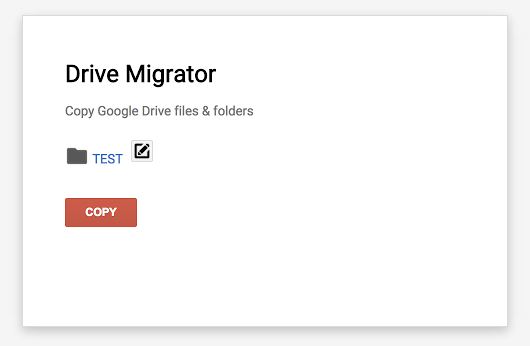 Photo: AN EXAMPLE OF USING DRIVE MIGRATOR

I know it is not as convenient as Ctrl+C and Ctrl+V and drag and drops, but once you are accustomed to this, it will not bother you that much. Even if you have other licensed software packages, you will still have a similar issue with this.
2. Combining these files into a single survey
Now the problem is linking two different surveys on a single survey, because you cannot copy items on one file to another file, or merge two different files in a single file just like as we used to do in word processors. There are two solutions. One is embedding surveys on a single page on any website. In this case you need a web service, such as WordPress or Facebook, which allows you to embed surveys on your webpages. The second is adding a link to the next survey file at the end of the survey.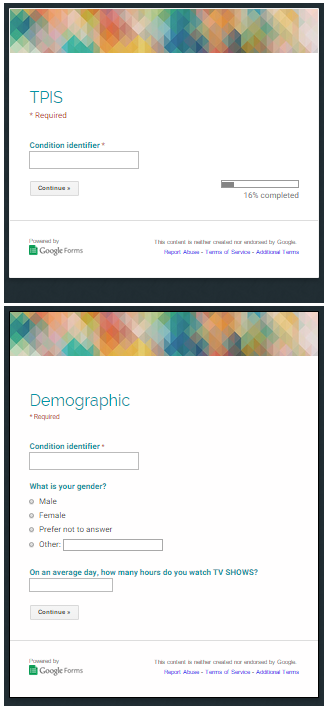 Photo: A FIRST EXAMPLE OF A COMBINED SURVEY IN A WEBPAGE

Embedding surveys in a webpage is more convenient when an entire survey is short and the number of questions in a single page is small, and when you need to show specific web content that expensive survey packages do not support within their software.
On the other hand, when you need larger sets of surveys, then linking forms using links, as shown below, seems better way to do.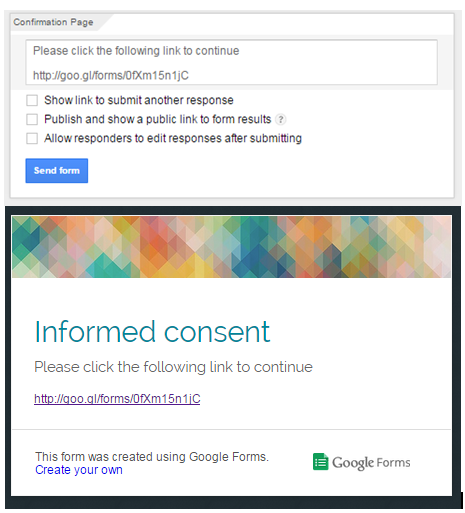 Photo: A SECOND EXAMPLE OF A CREATING LINKS TO NEXT SURVEY

Each of google form's files has a unique web address. You just copy and paste that address at the end of each of survey files. In this way, you don't need to type in or copy and paste every single questions and go through same work every time. If you just need to do a survey only for a few times in a year then these steps might require more time. But if you need to run similar surveys several times a year then these additional steps will significantly reduce your time of setting surveys.
! Don't forget
Either way, you need to make sure one thing, which is gathering identifiers that match each participant. It can be email addresses of participants or serial numbers that experimenters manually type in. Then you can sort responses based on the identifiers. Further, you might want to make this one as a required question. You can locate the option for required questions when you click advanced settings. You may want to apply a data validation tool to limit responses by specific numbers or characters to reduce input errors.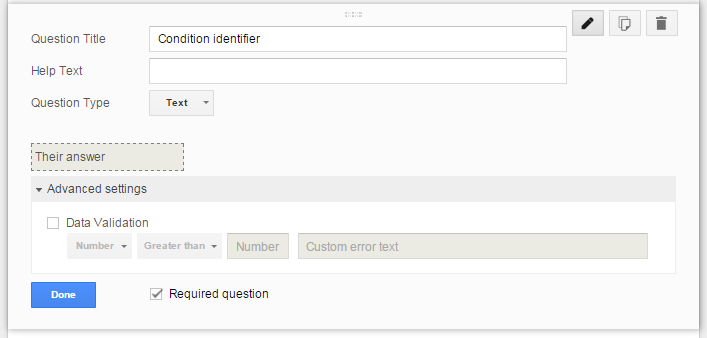 Photo: AN EXAMPLE OF MAKING IDENTIFIERS AS REQUIRED QUESTIONS

When you check the required option, your surveys should have *Required and * marks just like below. You should make sure that all the surveys you want to include have this form at the beginnings or endings of each part of surveys.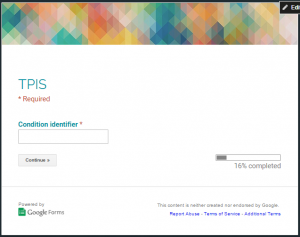 Photo: AN EXAMPLE OF A SURVEY PAGE THAT HAS AN IDENTIFIER AS A REQUIRED QUESTION

This method may not be the only way to manage your survey database. In fact, you will see that the biggest drawbacks of this method are lack of random assignment related functions for online experiment and usability issues such as typing in identifiers for all surveys. Although it takes extra steps, the random assignment can be solved when you set up two separate survey conditions and gather data with the manner of random assignment, and the usability issues can be attenuated when you set up instructions and procedures in organized ways.
I hope this post can help researchers who struggle with finding affordable ways of doing surveys.