By Hocheol Yang
This is Hocheol Yang. As a doctoral student and lab manager of M.I.N.D. Lab in School of Media and Communication at Temple University, I have been studying how we can explore virtual reality with Oculus Rift at Temple's Digital Scholarship Center (DSC). I will share a part of research tools that I use.
Using pens and pencils for taking users' responses is a historical and cost-efficient method that we all know even in the computerized 21st century. Still, there are many stacks of paper surveys on banks, restaurants, and markets' desks. Although I do like the feeling of handwriting, such as frictions between pencils and papers, I've witnessed (sometimes it was me who did) several coding mistakes and organization issues of this traditional method. It looks like digital methods can give us promises to solve these issues, but the online survey tools are not an error free method. Although online survey tools are not error free, it can reduce a lot of time, errors, and trees as we already know.
 Photo: GO GREEN/LINK
One of the biggest considerations for online surveys is the price. It is somewhat ironic, because even if you don't need materials in hands, you need to spend a lot for paying online tools' licencing fees. If you are likely to have a legitimate license for using Qualtrics or SurveyMonkey for your lifetime then you might be less interested in this post. Usually, maintaining licenses of these services for your entire research life is a quite uncommon benefit, especially for students. Even if you have a good survey database on those services, they are useless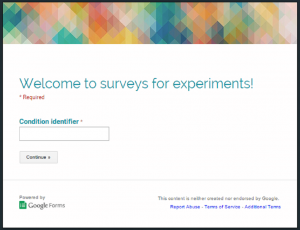 when you lose your license in any reason. Therefore, we still need free and reliable solutions to maintain your survey database so that it is readily available.
I hate to say this, but Google Forms is one of the best free solutions that you can have. The first key feature that we might need for our experiment is the ability of loading questions, videos, and images which are you can do and learn easily without instructions. For the second feature, we need to figure out some tweaks because all free solutions have some limitations.
I Building survey templates
The second feature is the survey database. Even for the expensive online survey tools, having easily usable survey databases is somehow not easy. For example, in order to test relationships between usability and attitudes, it would be fantastic if you just copy and paste usability and attitudes measures from the database you have used before. Copying the whole question structures and combining two different question sets is the feature that we all want, and it seems not that demanding feature; however, somehow it is not easily done by most of the survey services, which is totally different with editing surveys on word documents.
In sum, the main procedures can be summarized as the below steps.
1. Duplicating survey files that you already have on Google Drive's Forms documents
2. Combining these files into a single survey.
The next post will provide a guide for these two steps.