Vocational Fit Assessment and Employment Status in people with Intellectual Disabilities.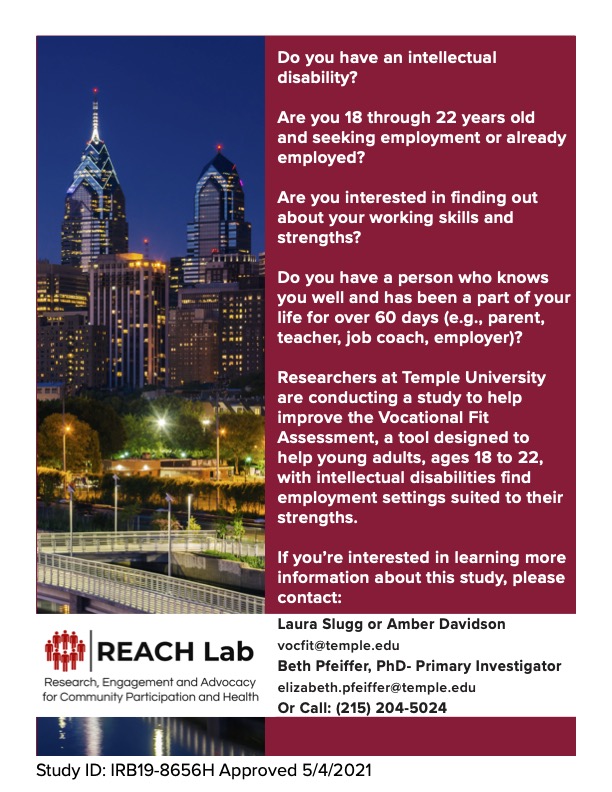 What is this study about?
The Vocational Fit Assessment is a 133-item survey used by transition teams that assesses both the abilities of workers and the demands of the job through a collaborative, data-based, decision-making process. This study focuses on quantifying the reliability and validity of the Vocational Fit Assessment. The significance of this research lies in the VFA's potential to inform employment decisions and interventions and serve as an indicator of employment status among people with intellectual disabilities in transition to employment. Learn more at the Transition, Employment and Technology (TET) Lab website
What are the Eligibility Criteria?
18 – 22 years, ​10 hours per week in vocational activities, Receive Project Search Services, Special Education Services through the Schools, or Vocational Rehabilitation Services.
What are participants asked to do?
Eligible participants will be invited to select an adult (Partner Reporter) they trust who knows what they are like in work situations to participant in 2 hours of interviews at 3 times points over the next 2 years. Interviews will consist of responding the questions on several surveys. There are some additional surveys that will be completed by participant and Partner Reporter independently at their own pace.
Is there payment for participation?
Temple Researchers will provide participants and their Partner Reporters each a $40 gift card for each complete data collection time point they participate in. (Participants can receive up to $120 for completing all three data collections.)
---
This research is funded by the NIH through the National Institute of Child Health and Human Development.