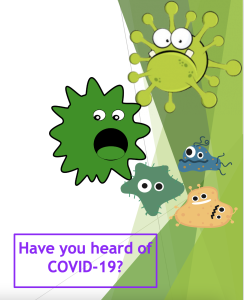 This study is looking at developing a training intervention called The SAFE Program for people with autism spectrum disorder (ASD) and/or intellectual and developmental disabilities (I/DD) that targets behaviors to increase safety and prevention of airborne diseases such as COVID-19 in the workplace. The SAFE program will provide training in an easily understood format for those with ASD and/or IDD. It will focus on teaching specific behaviors to reduce the risk of acquiring and transmitting COVID-19 and other airborne diseases. Training will be provided by a Peer Support Specialist with lived experience of ASD and/or IDD.
Currently gathering info by survey on what people know about peer support and about COVID-19.
What are the Eligibility Criteria?
18+ years
Autism or intellectual/developmental disability diagnosis
Currently working or actively searching for a job at least 5 hours a week? (Paid, intern or volunteer)
What are participants asked to do?
Complete an online survey about what adults with ASD and or IDD know about peer support and about COVID-19.
​Is there payment for participation?
Temple researchers will provide participants with $20 gift card as a thank you after the survey is complete.