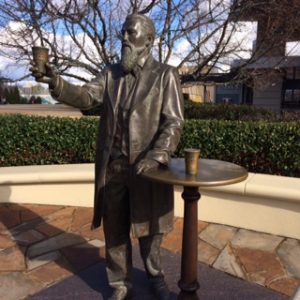 Coke is king here in Atlanta, so I was surprised to see comedian Paula Poundstone with a Pepsi for refreshment during her hysterical stand-up routine in front of 500+ librarians at the American Library Association's midwinter meeting. She made much fun of our love for meetings, meetings to discuss meetings, and meetings to discuss those discussions.  I'm more fortunate than some, with only four official meetings to attend, from the ARL Survey Coordinators meeting to the editorial board meeting of ACRL Library Trends & Statistics, LLAMA Assessment Organizational Practice and ACRL's Assessment Discussion Group. Thank goodness for the comedic relief of Poundstone!
But it was a productive conference, and I had the opportunity to learn quite a bit as well as meet up with former colleagues.  That's one of the highlights of conferences for me. We learn from these personal networks as well, of course. At the ACRL Assessment Discussion Group, one of our topics was what libraries are doing to support student retention. Anne Moore (former colleague at New Mexico State, now Dean of Libraries, UNC-Charlotte), updated us on what's going on in her library.
At UNC Charlotte card readers are installed throughout the library – outside study and instruction rooms, at the circulation desk, outside the building, and at the Speaker Center. (This space  is run by Communication Studies and is more than a presentation room. It is staffed with graduate students who can coach and critique practice presentations). Space user data is connected to not only Banner data (for demographics) but also responses to the NSSE (National Survey of Student Engagement). This is all pulled into a SQL database to which Tableau points, allowing UNC Charlotte  to create compelling data visualizations that demonstrate relationships between use of the library spaces (accessible to all, 24 hours a day) and students' grades.
An ongoing programmatic theme for ALA is the future of research libraries, changing roles of library staff and strategies for supporting that change.
One of the best was Joseph Zolner's Managing Change & Fostering Innovation. Hofner is Senior Director, Harvard Institutes for Higher Education. He led the ACRL Leadership group through an activity where our table came up with an initiative (ours was to increase diversity in ACRL membership, and then identify various types of change resistance: from loss of control to fear of uncertainty, to recognition of real threats. To learn more, take a look at Rosabeth Kanter's article, Managing the Human Side of Change in Management Review.
Kathleen deLong (University of Alberta Libraries) spoke as part of an ACRL program on Leadership for New Roles. Referencing the Transition Leadership Wheel, she spoke of the need for balancing opposing "forces." Capitalizing Strengths but Going again the Grain; Instilling a Sense of Urgency yet Being Realistic and Patient. Key to getting the right balance is trust.
Good message, and one that resonated with me.  Change is hard for us all, but trust and balance are key.  And I suppose, being true to our core values. Like Paula and her Pepsi.