By Renee Jackson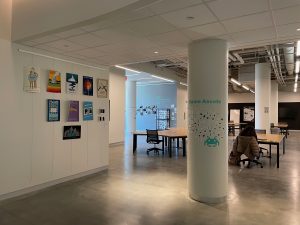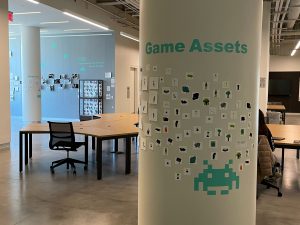 This art exhibition in the Scholars Studio space on the third floor of the Charles Library will be on display through November 2021.  It represents a culmination of the Arcade our Way projects that took place throughout the 2019 – 2020 school year at AMY NW Middle School in Philadelphia.  On the computers in the space, or through the website, www.arcadeourway.com, you will find the video game created in collaboration with students about climate change, The air we breathe (AoW, 2020), as well as choose your own adventure style cli-fi stories/games made using the open-source tool, Twine (https://twinery.org).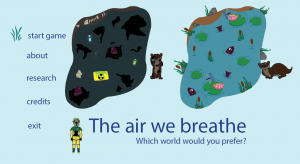 Featured in the show are QR codes that can be scanned enabling viewers to eavesdrop on the fascinating and often hilarious planning sessions and discussions with the middle school participants. Also featured in the exhibition are Climate Change posters created by Graphic and Interactive Design students from Tyler school of Art and Architecture under the guidance of their professor Scott Laserow. These posters play an important role in The air we breathe, as the protagonist gathers them throughout the game and throws this knowledge at minion/agents of the state in order to transform them into activists.  Also on view in the exhibition are game assets and screen shots of the game, photos of the participants in action and The Angry Babies Revolution, a mini-project within AoW. 
Angry Babies are 3d printed toy keychain sculptures, available for purchase through a bubble gum machine (returning to the Tyler lobby when Covid is less of a concern).  120 middle school students expressed their anger and concern about issues that matter to them, channeled through these toys.  On the bubble gum machine bubbles, they have written their concerns, and ideas about how they can work through these concerns.  For example: People saying my name wrong; Correcting them.
What is Arcade our Way? 
Arcade our Way (AoW) is an inclusive *STEAM intervention that can take place in formal and informal educational contexts.  It promotes social impact/social change game-design as an expressive medium for all creators and seeks in particular to engage those whose stories and concerns are not often represented in mainstream games.  
*STEAM is a current trend in education referring to Science, Technology, Engineering, Art, Math 
The AoW Research
My main research interest focuses on how we learn through collaborative game design.  I am specifically interested in collective learning about social justice issues through a critical feminist lens, which essentially means the "teacher" is a facilitator working with the students with the understanding that we are all teachers-students, bringing our own set of knowledge and experience to the table.  In the AoW context, multiple perspectives come together to develop video games about social justice issues, based on the concerns of the youngest participants. The air we breathe (AoW, 2020) was created by a small group of grade 8 students, a game developer Ashley Rezvani (Homemade Productions), and an art intern from the Harrisburg University of Science and Technology, Sierra Kirby.
Learning through Collective Story-Building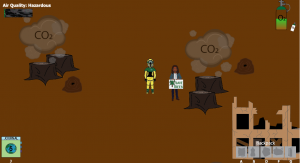 Collective story-building is a promising learning strategy situated within a critical pedagogy framework where the adult participants and facilitators build knowledge with the students rather than telling them what to think.  As the narrative of the story was excitedly being discussed by the younger participants, more typically myself or Ashley, though also the younger participants themselves, would bring the attention back to climate change by suggesting real world details that could be integrated into the narrative. This did not take place in what critical pedagogue, Paulo Freire, would call an oppressive transmission approach where the teacher tells the students what to think, but rather through the building of the storyline wherein students would integrate some climate change details and reject others through discourse. 
At one point, I reminded Kadar that oil companies make a lot of money and are therefore against greener energy like solar and wind because that will kill their business. Khadar then described oil companies making lots of money and delivering oil all over – spilling it, and leaking everywhere.  I suggested that they are careless and don't maintain their trucks because they want money more than anything and it costs money to fix things. He took this additional detail, wove it into his story and kept going.
Learning through Game-Mechanics
Video games are constructed based on if/then statements and win/lose conditions.  Framing social justice issues through game design structures means thinking in these terms and building a story around them.   Though games can run the risk of oversimplifying complex issues, considering them through the game design structure is also useful as a learning tool.  It imposes constraints that lead to understanding the game world in terms of impact and effect. 
For example,  if pacman runs into a ghost, pacman loses a life.  If you take this if/then structure, central to all video game design, and place it within the context of a social issue like climate change as in this case our game, The air we breathe (AoW, 2020), the power of this structure becomes more evident:  if the player plants seeds then trees grow and the air becomes less toxic with CO2s.  If/then statements, when connected with real-world information, can reinforce the idea that our actions in the world matter.   
Thinking through the lens of "win conditions" and "lose conditions" is also useful.  In relation to social issues, it is always important to ask who wins? and who loses?  As well as how do we "win"?  In our game, you win by throwing knowledge about climate change at minions, transforming them into activists.  You win against lumber and oil corporate bosses by overwhelming them with powerful statistics about their industries.  You lose if you suffocate by running out of oxygen and not managing to plant enough trees, or clean enough ponds, or fix enough windmills and solar panels to help the air quality.  
Conclusion
Collaborative social justice video game design is itself a pedagogical tool with great potential to engage with and work towards social justice, both in terms of thinking through the framework of game design, and through the act of collaboration. With further research to develop best practices, collaborative social impact game design has great potential as a site for resistance and transformation in art education.