By Elysia Petras
The Original Plan
In the spring of 2020, I was set to begin the first season of archaeological excavations for my doctoral thesis research over summer break on Anguilla, BWI. My research investigates the formation of Afro-Anguillan identity, and the social networks of enslaved laborers at the Hughes Estate, an 18th-19th century sugar plantation on Anguilla. In addition to traditional excavation, photogrammetry was a key component of my summer 2020 research plan. 
Photos of the site's smokehouse building and the artifacts excavated were to be the main data for my research project with the Scholars Studio for my fellowship during the  2020-2021 academic year. For my digital research project, I proposed to explore the applications of digital humanities techniques such as capturing 3D models and hosting digital assets online for purposes of  preservation, accessibility and, most importantly, community engagement with heritage. 
However, borders closed due to the global pandemic, and I was unable to travel to Anguilla this past summer as planned. I entered the current academic year without the data nor the envisioned community connections needed for my Scholars Studio proposal.
The Hughes Estate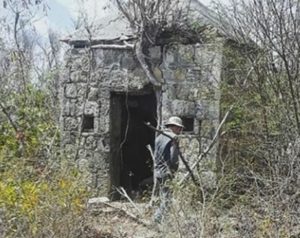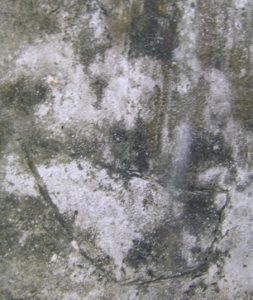 The smokehouse building of the Hughes Estate is the best-preserved structure on the site and contains etched drawings of ships on the interior walls. This location was part of the plantation infrastructure, designed by the plantation owners for their benefit, yet it was the enslaved who labored in and utilized the space. Ship drawings have been found in enslaved contexts throughout the Americas. Scholars have argued the ship imagery belongs to African diasporic religious symbolism (Lindner 2016), and others as testament to surviving of the middle passage (Singleton and Torres de Souza 2009).
Unfortunately, the future preservation of the smokehouse is in jeopardy as the region is threatened by increasingly destructive hurricanes. Hosting three-dimensional records of the smokehouse online would serve as a form of preservation of an endangered site and increase the accessibility of this research to scholars and the public alike. 
Archaeology and Community Engagement
Archaeologists not only have a responsibility to share their results to advance their field, but also have an ethical responsibility to make their research accessible, and more importantly, beneficial to the local community (Atalay 2012). Creating 3D models and then hosting them online would promote community engagement during and after fieldwork. Ideally, I wanted to reconnect with the classroom of a high school history teacher who had expressed interest in the archaeological research project my advisor had conducted the previous summer in Anguilla. I felt that photogrammetry had the potential to engage a wide range of student interests as the project offered opportunities to learn not only history, but also photography and new media. Back at the Scholars Studio, via Agisoft Metashape, I would create 3D models from photos taken by the high school students in the field and share them on a website I would create for the archaeological project. I envisioned the possibility for collaboration on researching and interpreting the artifacts between myself and the high school class. 
Plan B: Testing Out Photogrammetry and Forging New Communities
Unable to complete my proposal in Anguilla, I began my year at the scholars studio honing my skills in photogrammetry so I could hit the ground running when I returned to the field. 
I read through the literature on best practices and tested various methods in outdoor photography for photogrammetry with my camera. I took photographs of a public memorial to 19th century African-American leader Octavious V. Catto at Philadelphia's City Hall with Temple's CLIR postdoctoral fellow, Synatra Smith. Here is a link the model hosted on sketchfab.
In addition to improving my technical skills, the experience of working in a public place confirmed for me that photogrammetry projects are indeed conducive for engagement with heritage. When our cameras were out, passersby stopped to interact with us and with the statue. People took their own photos, even held the statue's hand, and others asked us about our project. When our cameras were away, I observed markedly less to no engagement with the memorial. It seemed as if our presence and interaction with the statue gave people permission to slow down and engage with the memorial themselves.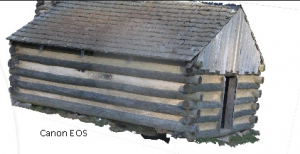 A friend and I took photos of a reconstructed cabin of Washington's army in Valley Forge National Park. He shot the cabin on his iphone at an automatic setting and I shot the cabin on my DSLR Canon in manual mode, adjusting the shutter speed, ISO and fstop to the advised settings for photogrammetry. We learned that the differences in quality between cameras are far less important than proper overlap, and lighting conditions. While his model had slightly less detail and had more "baked" lighting than mine, the outcome was still very impressive. With a smartphone, capturing photos capable of making highly detailed models is truly possible, thus democratizing access to 3D model building. We returned to the park a second time to learn more about the history of the site, our interest having been piqued during the photo experiment.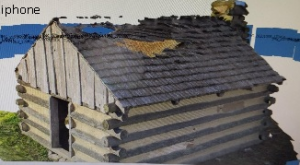 As the year went on I accepted that it may be longer than anticipated before I could physically be in Anguilla, so I reached out to some contacts in Anguilla such as the Anguilla Archaeological and Historical Society and Anguilla's National Trust, asking if they would have the time to help me with the photogrammetry component of my project. After receiving word that they would be interested in helping, I developed a powerpoint in which I summarized my experience in photogrammetry best practices. 
While this isn't the community that I had envisioned working with at the start of my project, the Anguillan Archaeological and Historical Society and the National Trust are both agencies that creates community. I participate in Trust events summer of 2019 tagging sea turtles and going on a 5+ mile nature walk in the wee hours of the morning. During these activities I  met government officials, locals with an interest in nature and the outdoors, and various expats. Agbe-Davies explores the definition of community for archaeological sites, arguing that the concept of community is theoretically weak. She cautions against work that essentializes communities (community defined as genetic descendants) and promotes an expanded definition of community to include multiple groups with different relationships to site and its history (Agbe-Davies 2010). To Agbe-Davies, community is a process rather than an essential category, and archaeologists need to consider how they fit into existing networks. Rather than going out to find or create a community around my project, I am working with connections that are already a solid part of my network. 
Next Steps
Atalay emphasizes that community engagement in archaeology must go beyond participation in fieldwork, as true collaboration includes community in both the planning phase and interpretation of the project (Atalay 2012). I plan to design a website for the archaeological project. I am interested in heritage websites as dynamic, decolonized spaces inviting multivocality in knowledge production.  I plan to design a site that, beyond hosting the 3D models and site interpretation, allows discussion forums where community members can submit their own research questions and interests related to Anguillan history. Agbe-Davies writes that community archaeology's true potential lies in creating spaces for discussions about the past (Agbe-Davies 2011), and this is exactly what I am hoping to accomplish with the website.
References
Agbe‐Davies, A.S.
2010    "Concepts of community in the pursuit of an inclusive archaeology", International Journal of Heritage Studies, 16:6
Agbe-Davies, A.S.
2011   "Inside/Outside, Upside Down: Including Archaeologists in Communities". Arch 7:574–595.
Atalay, Sonya.
2012   Community-based archaeology research with, by, and for indigenous and local communities. Berkeley : University of California Press.
Lindner, Christopher.
2016   "West African Cosmogram Recognized adjacent to Probable Hearth Concealment at 19th-Century Slave Quarter in mid-Hudson Valley Settlement of Early German Americans". The SHA Newsletter. 49(1):28-29.
Singleton, Theresa and de Souza, M.A.T.
2009  "Archaeologies of the African Diaspora: Brazil, Cuba, and the United States". In International Handbook of Historical Archaeology, edited by Gaimster D., Majewski T., Springer, New York, NY. pp. 449-469