By Crystal Tatis
Oculus Rift, Playstation VR, HTC Vive, Google Cardboard, Samsung Gear VR—- words that people thought were part of a bad Mad-lib game but has instead become mainstream communication devices. Virtual Reality (VR) has met a great opportunity for expansion into other industries like medicine, military support and my personal favorite, retail. If the Pokémon Go phase has taught me anything it's that a lot of people have smartphones… and that there is an increasing acceptance of Augmented Reality (AR) and Virtual Reality in our everyday lives.
Virtual Reality is entering mainstream status with the arrival of affordable and user-friendly headsets. VR is allowing business to show off their products and services in an innovative way. It's not shocking to learn that corporate businesses took this opportunity and ran with it. As far as practical applications go for VR, even though some people think it's limited, it's already being used and having substantial effects. Here are some examples of companies that have adapted VR into their overall marketing strategy and or ventures:
– Live Nation (a concert promotion company) partnered with NextVR ( a virtual reality content company) and Citi (giant banking company) to stream 10 live concerts, this way providing an unprecedented access to fans who enjoy live music. This concert series grants credit card members behind the scenes access with their special tickets. Also, to bring patrons into dressing rooms and on stage at sound checks virtually. This will help everyone involved to improve publicity and, as an innovative marketing strategy, reach more people than they could using traditional advertising methods.
– Six Flags wanted to create a cosmic experience for their customers and did so by adding a VR roller coaster to their portfolio. The Galactic Attack involves the consumers wearing Samsung Gear VR headsets and  shooting at random targets on the way up the hill by using the buttons on your headset. While doing so, they fly through space, encounter an army of flying alien drones and more.
https://www.youtube.com/watch?v=l3065_dLPrg
– Lowe's Innovation Labs made it possible for customers to use AR to better visualize their finished home projects before they even began. Also, they offer a different experience through VR headsets that create an immersive experience by watching the renovations for their dream home come to life. Lowe's will be able to offer better customer service, may be able to engage more with their consumers and gain loyalty and word of mouth from it.
https://www.youtube.com/watch?v=lCRH50qyVd4
– Toms Shoes and AT&T teamed up and created a new VR project to show how customer's purchases actually make a change in the world. They show the journey of one of Toms customers traveling to Colombia to meet a child that directly benefits from that customer's purchase, demonstrating Toms mission of matching every pair of shoes purchased with a new pair of shoes for a child in need. These philanthropic companies' main weakness is that the consumers may buy their products based on their mission statement but they don't know how transparent the company actually is. For Toms to record this moment and spread it to a massive audience in an innovative way will probably give them a boost in sales and up their brand value.
– Budweiser teamed up with the NBA's Cleveland Cavaliers and started giving away cardboard VR headsets at their playoff game, in 2016, so that the fans could have a tour of the locker room and a court side view of the national anthem and player introductions before the game. Funny enough, the headsets double as a beer carrying case. Budweiser partnered with the NBA to bring this new holistic experience for those basketball fanatics who are used to watching their favorite team with their favorite beer in hand but maybe don't have the money to go to an actual game and see the behind the scenes.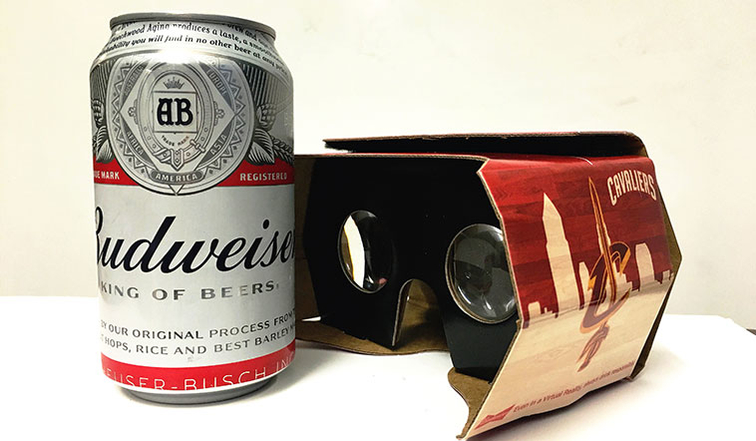 With all of these examples, it's clear that even though both technologies have made a huge splash in the gaming industry, they are making a successful transition into e-commerce. While AR & VR have slowly been moving into the workplace, it is clear that future businesses will use these tools to attract younger generations. Companies understand that Millennials "just get it," meaning that they easily see the value of these tools at work and understand how it helps increase profitability; maybe in 10 years they will even demand this out of their employers.
References
Jenkins, R. (2016, October 24). 20 Innovative Ways Companies Are Using Virtual Reality. Retrieved from Inc: https://www.inc.com/ryan-jenkins/20-innovative-ways-companies-are-using-virtual-reality.html