By Emily Logan
The image shown above is of melted coffee lids that have been injected into a mold. The result of this recycled material is an organically shaped object with a marble-like pattern. Though the shape is abstract and non-functional, it shows the potentially of two incredibly cool machines built by two students at Tyler School of Art named Adam Frankin and Christine McDonald.
I am working collaboratively with the two artists to upgrade the prototypes and build fully functional plastic recycling machines. The artists' machines will be upgraded and new machines will be built and used for educational programming regarding sustainable design, prototyping and product/art making. These machines would be utilized by the Office of Sustainability as an educational tool to explain the recycling process and how materials are transformed into new products. The Digital Scholarship Center (DSC) would use the machine for academic research, and also to create a more sustainable process for recycling unwanted 3D-printed prototypes and failed 3D prints. The machines will shred multiple types of plastics, melt/inject plastic into molds and create 3D printer filament.
The goal of this project is to collaborate with multiple departments in solving sustainable design challenges, and develop machines that can be used in the library for academic research and material transformation for years to come. Also, my hope is that this project will raise awareness about recycling on campus and increase the university's recycling rate from 43% – 50% in the next year and a half. See Temple's annual trash and recycling report for more information on the university's recycling rate. 
Below are a few images of the prototypes made by the Tyler students:

The original designs of these prototypes came from an open source project called Precious Plastic. Dave Hakkens is an artist from the Netherlands who made the project. He wanted to solve local problems of waste on a global scale by empowering local handymen and women to build their own recycling machines. 

Filastruder and Filawinder
While the machines are being upgraded, I will begin testing out different types of plastic on our Filastruder machine at the DSC. A blender was donated and will be used temporarilly while the recycling machines are being upgraded. The Filastruder is an open source, DIY plastic extruder specifically designed for making 3D-printable plastic filament. There is also a Filawinder kit to wind plastic filament into spools. I will be testing  to see if any of the 7 types of plastic are viable of being recycled into 3D printer filament.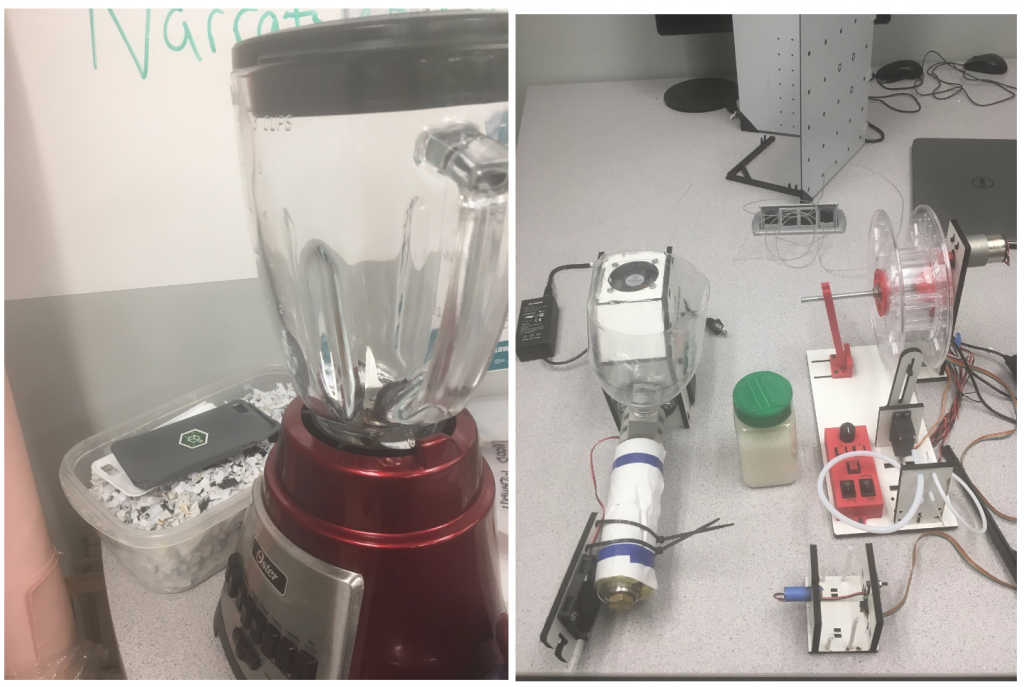 The marble-like object shown in the image at the top of the page is a mix between black and white coffee cup lids. These lids are made from plastic #6 called Polystyrene. Polystyrene typically appears as a clear, glassy, opaque material that begins to soften if heated to around 203 degrees F. When burnt, it typically gives off a dense smoke. There are several ways to test what type of plastic you are working with either by burning it or by seeing if it will float using different liquids such as alcohol, vegetable oil, water or glycerin. To make things more complicated in this plastic research, a polystyrene lid purchased at Starbucks might have a different proprietary blend of chemical components than a lid purchased at Saxbys.